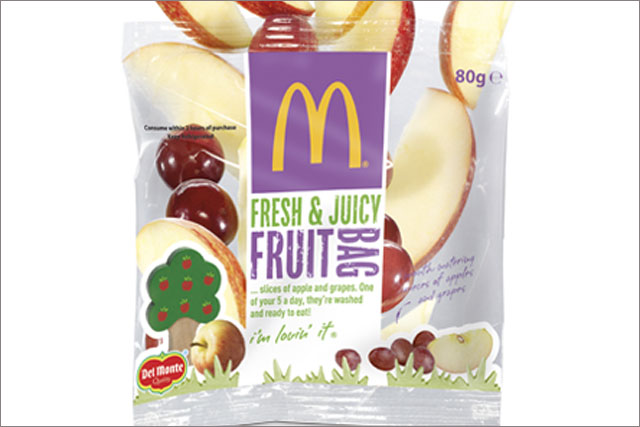 'Free Fruit Fridays', which starts today with an apple and grape bag, will see McDonald's give out the equivalent of more than 3.5 million apples and 23 million grapes free of charge to Happy Meal customers. On the days of the promotion, it will account for more than half (52 per cent) of all children's fruit bags consumed in the UK.
The rollout follows a test across 255 restaurants and a similar campaign in France, Crunchy Wednesday, which has run since 2010.
The move is being promoted by a marketing campaign spanning TV, radio, press and digital. The TV spots (see below) show parents and children enjoying finding fruit in places such as the garden, the countryside and also McDonald's. A PR campaign, featuring Tamzin Outhwaite, is also underway.
Nathalie Pomroy, the newly promoted director of marketing for McDonald's UK, said that although she hoped the move would increase footfall, the main reason behind the promotion was to ensure that McDonald's was "seen as Britain's favourite family restaurant".
"It's a brand perception piece. We really want to make sure we're in step with what parents are looking for and what they care about," she told Marketing.
The move comes as Government figures show that less than one third of adults and one in 10 older children meet the five-a-day recommendation on fruit and vegetables.
Pomroy said since its launch 10 years ago, fruit bag sales had waned. She blamed the trend on a lack of awareness of the product, so Free Fruit Fridays was aimed creating "impact, stand-out and an event around fruit".
She claimed the UK market could emulate France where fruit bag sales had increased by 19% outside of the promotional day.
Pomroy said: "It actually changed behaviour and that's what we're hoping to replicate in the UK as well."