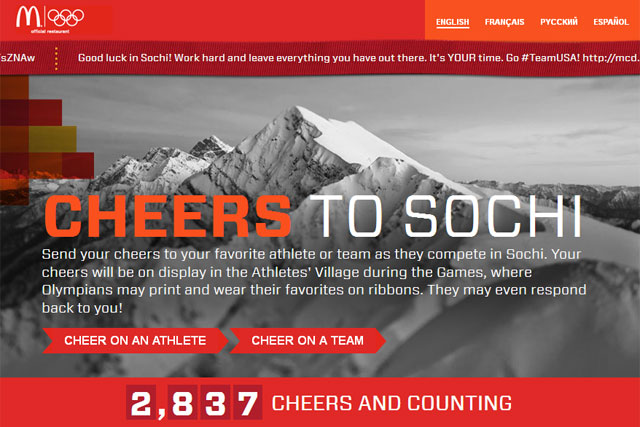 The website is hosted at www.cheerstosochi.org and has a near identical web address to the McDonald's website URL ( www.cheerstosochi.com) and aims to act as a resource for people to confront the Sochi Olympic sponsors about their concern for LGBT rights in Russia.
Wooledge said: "Activists around the globe have demonstrated loudly in the streets of New York City, London, Berlin and elsewhere.
"#CheersToSochi speaks to frustrated people around the world who are disgusted with the sponsors' silence. Their silence, and tacit consent with Russia's war on gays has damaged their brand images worldwide."
Visitors to the site are encouraged to create meme's using images of the sponsor's brand mascots or gay people who have been beaten up in homophobic attacks, and share it using McDonald's #CheerstoSochi hashtag.
The parody site claims it has received almost 30,000 "cheers to Sochi", while the official McDonald's sites has fewer than 3,000.
When contacted yesterday by Marketing, none of the main Olympic sponsors specifically condemned the anti-gay laws in Russia.
In comparison, the US Olympic Committee sponsor AT&T specifically condemned the law in Russia by labelling it "harmful to LGBT individuals and families, and it's harmful to a diverse society".