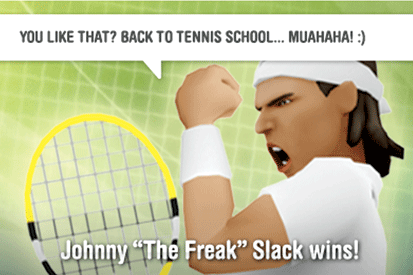 The Grand Slam Tennis Quick Challenge app, created by Wieden + Kennedy Amsterdam, aims to give players a sneak preview of the Grand Slam Tennis game on the Wii game, allowing them to interact with real footage and leave them wanting more.

The game is based on rock, paper, scissors, but players chose between lob, slam and drop shot and challenge their opponent to a succession of three-shot volleys which determine who wins the match.

Players can choose their online Pro Tennis avatar from current pros and past legends such as Boris Becker, Andy Murray Roger Federer, Venus Williams, Jo-Wilfried Tsonga, and John McEnroe.

Features include a record of matches played, rankings and global leaderboard, a custom victory message that displays in the last frame of the match and automatic news feed updates.

Players are also able to publish the match in full as a movie on their newsfeed, or embed the link on other sites.

By encouraging players to challenge Facebook contacts and allowing users to spread matches around the web, EA Games hopes to grow interest in the off-line game, prior to its launch next week.