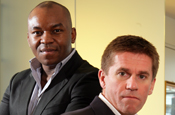 MCHI, a joint venture with WPP's Group M, is an extension of the agency's previous media offering CHI & Partners Media.

It will bring media buying in-house, alongside CHI planners and creatives to provide full-service solutions to clients.

Headed by the managing partners Tim Allnutt and Enyi Nwosu, MCHI claims to have buying clout of £55 million, a staff of 45 and clients including The Carphone Warehouse and its Talk Talk subsidiary, Virgin Money and Tiger Beer, which were already clients of CHI and CHI & Partners Media.

Big Yellow Storage, a CHI client for two years, has also now appointed MCHI to handle its full-service business.

Media buying will be handled by a team recruited from Group M, led by Paul Thomas, a managing partner at Mindshare. Senior CHI staff will also have desks at MCHI, which is based in separate offices to CHI on London's Rathbone Street.

The agency claims to provide a new model in that it will run a fee-only structure rather than take commission on media spend. Its creative offering will cover digital, direct marketing, advertising and design.

Allnutt said: "If 20 years ago full service meant advertising and media people working together based on a commission payment structure, our model is very different.

"We can remain totally objective about the advice we give to our clients."

WPP owns a 49 per cent stake in CHI and had previously provided CHI with a media buying resource from one of its Group M offices.

The deal to create MCHI was brokered by Johnny Hornby, the chief executive of CHI, and Jed Glanvill, the chief executive of Mindshare.