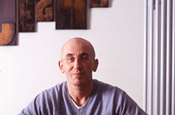 McIlrath's departure comes shortly after Hurrell and Dawson hired Wieden & Kennedy Amsterdam's Al Moseley to be its creative director and fourth partner in October 2007.
In his new position, McIlrath will work alongside Iris's founding partner and global creative director, Sean Reynolds, to manage the independent integrated agency's creative offering.
McIlrath will focus on strengthening the creative product across its UK and European client base, which includes Sony Ericsson, ING, adidas, Shell and the COI.
Prior to joining Hurrell and Dawson in 2006, McIlrath founded Heresy, which was bought by VCCP in 2005.
Nick Hurrell, the founder of Hurrell and Dawson, said: "Sean has been headhunted so often in the last year that we don't know if to be flattered or offended. He's a diamond and we wish him every possible success."
Reynolds, said: "Shaun is a creative heavyweight who meets our needs perfectly. He understands the breadth of things we do, our attitude to life, and most importantly, he really gets integration."