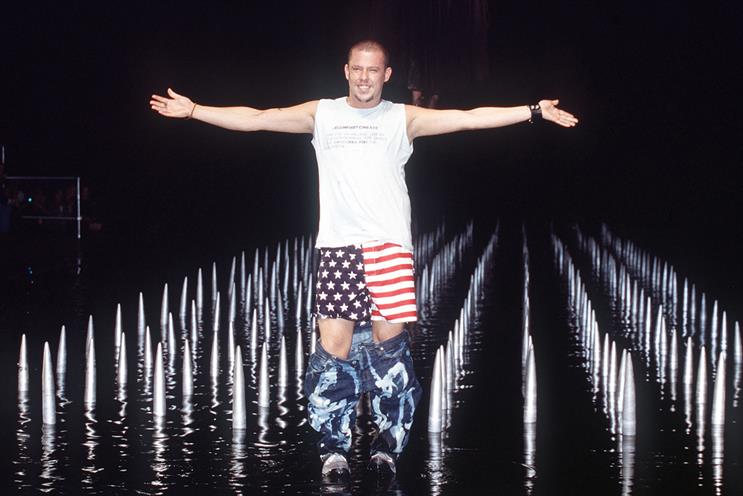 Alexander McQueen is dead. A show of his life's works currently occupies a huge footprint at one of London's most prestigious art galleries after breaking records at New York's Metropolitan, taking a space and time length usually reserved for the world's most important artists.
McQueen made clothes, bags and jewellery. For labels. Then for himself. And, like the others, he sold them for money.
But he wasn't like the others.
Dancing and laughing with the young British artists of his era, he was different.
Like all of the best, he was more than a thinker. He could make stuff. He'd grafted. Learning his trade with the best on Savile Row gave him the skill to make something beautiful all by himself.
Always a story
The retail conventions creeping into fashion bored him. He'd collide crafted tailoring with the icky dark stuff. Always the right side of Slipknot, you could dip your toe into so much more than a high heel: romance, Victoriana goths and Jack the Ripper all danced through his work.
There was never just a show, always surprise. Never just a product, always a story. Never mind Vogue, images of an undead hat or his bag that could have been a bishop's hand grenade were in The Sun. He made what he made for the few to own and everyone to enjoy.
He embraced new technologies without any need for fanfare; it was all a means to a brilliant end. Working with Nick Knight's visionary Showstudio, he showed how to make technology a powerful bridge to an eager global audience. The hologram of Kate Moss in his "Widows of Culloden" was pure clickbait. The ethereal Kate, probably the most photographed woman in the world at that time, as you'd never seen her. More perfect in pixels than in the flesh.?
He described himself as a handful. And they tried to handle him. The boxes: Fashion designer. Nutter. Antagonist. Depressive.
Savage Beauty: McQueen's remarkable creations are being exhibited at Victoria and Albert Museum. Credit: Victoria and Albert Museum, London
Outside the box
We have boxes in our industry too.
Alexander McQueen was one of the world's finest creative minds. He made some sad choices but some great ones as well.
He chose to spend time not with those in his industry but with those who could keep his mind fertile and hungry. Who do we run with? Are we all on the same blogs, in the same clubs, on the same planes to the same tech festivals in Austin?
He chose to learn tailoring with the best because, unless you can make something with your own hands, you will always be dependent. Are we still the guy stood behind the designer? Left a bit, right a bit. How many of us are learning the coding, design, editing and other crafts we need to succeed?
He chose to bake fame into every item, action and show because he knew it would carry him further, faster. Are we still using the word craft to justify making invisible work?
He chose to embrace technology and forward-thinking partners because they helped him tell more original stories. Never mind token gestures, how many of us are really putting technology at the heart of our most important work?
He chose never to settle for the ceiling or fashion's established code of conduct. What are we so afraid of? Are the places we work in so perfect that we needn't question them?
Put a dent in culture
McQueen's way didn't work all the time, but that didn't matter.
He was a magnet for talent and an irresistible hire for the ambitious. Because he freed things up.
We don't make art and headlines every day. But the role of fashion designer doesn't have that in its job description either. Whether or not you agree that McQueen is worthy of artistic comparisons, he put a dent in culture. And that's a noble purpose for anyone in our game.
Burn the boxes and be more than your title. Shake off your station; we don't need more terms for what we do, we need more heroes. Theory won't redefine this industry, what we make will.

Nils Leonard is the chairman and chief creative officer at Grey London