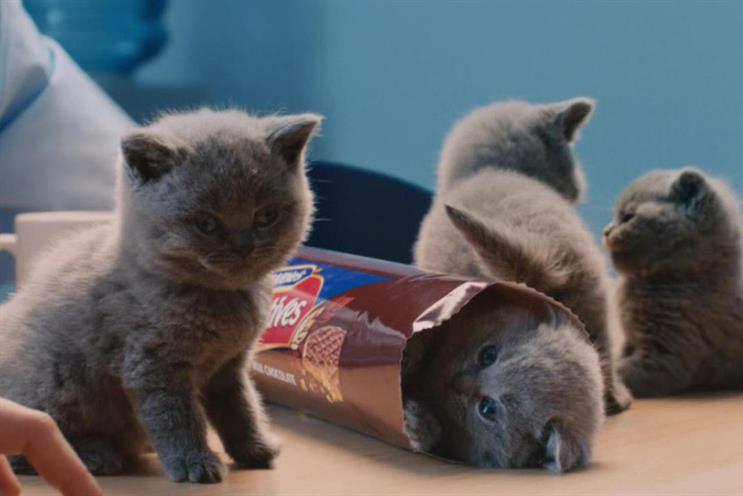 Grey London has created an ad featuring the well-known cuddly kittens from the "Sweeet" campaign. However the new ad will feature students sharing a pack of the biscuits.
Speaking at a preview of its marketing plans for the year in London last week, Sarah Heynen, the marketing director for sweet biscuits at United Biscuits, said that the team has been reviewing its media strategy.
She said: "TV will be a main pillar because of its reach but we need to enhance our digital presence."
Along with the TV ad, Grey has produced an app that allows people to have their very own virtual kitten. When the user points the app at a packet of the chocolate Digestive biscuits, the kitten appears. They can then dress the kitten in different outfits.
McVitie's is launching a new range called Nibbles too, a range of bitesize chocolate covered biscuits. This, Heynen said, will push the brand to be used in the evening and with a younger audience.
A £4 million campaign by Grey will launch on 1 April with a TV ad showing young women having a night in and opening a bag of Nibbles, and the cuddly kittens pop out.
Heynen said that 2016 "will be the year of the digestive". She added that the brand will focus on "getting the most out of what we already have and balancing that with innovation".
United Biscuits is also adding two new products to the Go Ahead! brand: Cookie Bites, a pack of bitesize cookies, and Pud Bakes, a sponge with a cherry filling. It is aiming to target people who like to graze throughout the day and those looking for "positive snack choices".
The products will be available at the end of the month, and the brand will launch a £2.5 million TV campaign in May.
United Biscuits' savoury brand Jacob's is also set to relaunch with a campaign called "crackin'" that will run through TV, out of home, shopper, PR and digital channels.
This will launch at the end of the month and will also be created by Grey after it picked up the business in October.
Ted Linehan, the director for savoury at United Biscuits, said that the brand wants to get "serious" about social media and digital.
He said: "When I talk to my team I like to say that our efforts on social media and digital up until now have been demonstrating to ourselves what we ought not to do. This year's the year we hopefully start doing what we should do which seems like a better strategy."
Jacob's will be launching a Facebook page and relauching its Twitter account, and plans to enter into some media partnerships.
MEC handles United Biscuits' media planning and buying business.