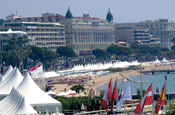 The meagre smattering of London shops from a shortlist covering 40 A4 sheets of paper is provided by some well-known campaigns.

Harvey Nichols ("football", "norse", "yellow" and "silver") and the VW Touareg ("escape") are DDB's shortlisted entries.

The Red Brick Road has five shortlisted campaigns for Heineken ("Italy", "Spain", "Portugal", "Jamaica" and "Cuba") and one for Sky One: Prison Break ("handcuffs").

AMV's three ads for The Economist ("dissection", "world revolves" and "worst thing") are up for prizes, and JWT is in the running with two campaigns for the National Centre for Domestic Violence ("stairs" and "armchair").