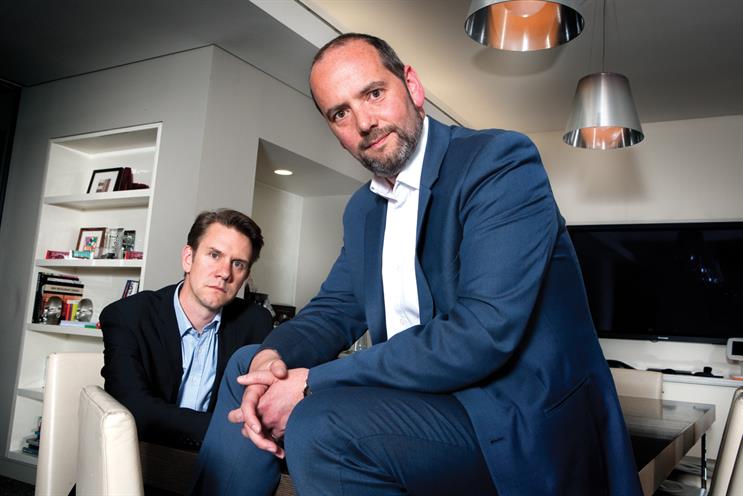 The hundred-day mark is likely to be one of celebration for MEC's new double act. Since Stuart Bowden and Jason Dormieux became joint chief executives in February, MEC has picked up the prestigious planning brief for the Royal Air Force and Navy, and boosted its billings by £60 million with BGL Group, the parent of Comparethemarket.com.
The pair feel that one of MEC's strengths has been its stable leadership and, in this light, their promotions were a sensible move. Bowden had been the managing director since mid-2011, when Dormieux, who ran the digital arm MEC Interactive, stepped up to chief operating officer. Together, they replace Steve Hatch, who joined Facebook.
Bowden and Dormieux have worked together for more than six years and are clearly close, mocking each other's "serious" expressions during the photoshoot, resulting in bursts of laughter.
When decisions are called for, they say neither takes the role of "bad cop". Bowden puts on a mock-stern voice and cries: "You do not want me to come in there and sort this out. Sounds like me arguing with the kids." Dormieux adds: "We are very different – different backgrounds and different personalities. But there's a lot of laughing, which is no bad thing."
Despite the influx of new clients, Bowden and Dormieux have their feet firmly on the new-business pedal. MEC's win of the global Vodafone account last month doesn't affect them as the business will be run from Group M's Team Red unit – "for obvious reasons", Bowden says, referring to the conflict with MEC's client EE.
The duo estimate they will add 50 staff to MEC's existing 500 before the end of 2014, by which time the mushrooming agency will have moved into its new office in Sea Containers House, after building upwards and downwards from its Southwark space.
They are currently dividing themselves between pitches and value the ability to spread their focus. "Pitches are so all-encompassing now that it's impossible to do them as a side project," Bowden explains.
Starcom MediaVest Group appointed dual chief executives last year, but the set-up is rare and continues to raise questions about direction and where the buck stops. But Dormieux believes it to be a good fit for today's complex and fragmented media world.
Dormieux is responsible for the agency's digital work, and areas such as analytics, activation and finance.
Bowden, meanwhile, is a smart strategy man and MEC's former head of planning, and takes the lead on new business and marketing, as well as the Access division that houses sponsorship, content and event marketing.
Making their remits clear to the agency is essential, Dormieux says: "Having a really honest approach is a pre­requisite. If we disagree, that's fine. In a way, you want some creative tension so you can bounce ideas off each other."
Both see the agency as one that has evolved "further and faster" in digital than competitors, driven partially by using new-business momentum from innovative clients such as EE and Lloyds Banking Group to strengthen in areas including data and analytics.
They espouse the "kiss and punch" relationship with their sister Group M agencies, and Bowden notes that MEC has tended to have more UK-based clients than its siblings: "We've looked in the eyes of the CEO or the founder, and those relationships tend to be stronger because they have been made freely and they will let us grow with them. It's a personal contract between us and those clients."
Personality will be a key to success too. Although Bowden jokes that either of them "could come out of the next meeting with a black eye", one senses that there aren't too many ego battles on the way.
Dormieux is more talkative and informal, while Bowden is perhaps more reserved and thoughtful. The pair conclude that the often-admired MEC culture is bigger than each of them individually, though their relationship is what led to their appointment.
Bowden says: "I'm not sure the conversation [about having two CEOs] would have happened, or that we would have signed up for it, if we hadn't known each other and worked through some difficult and some good times."
Some observers suggest that a dual-chief executive model could lead to one partner becoming a "client man" and the other an "industry man". The success with which they negotiate their responsibilities internally and externally will determine the fate of MEC's decision.