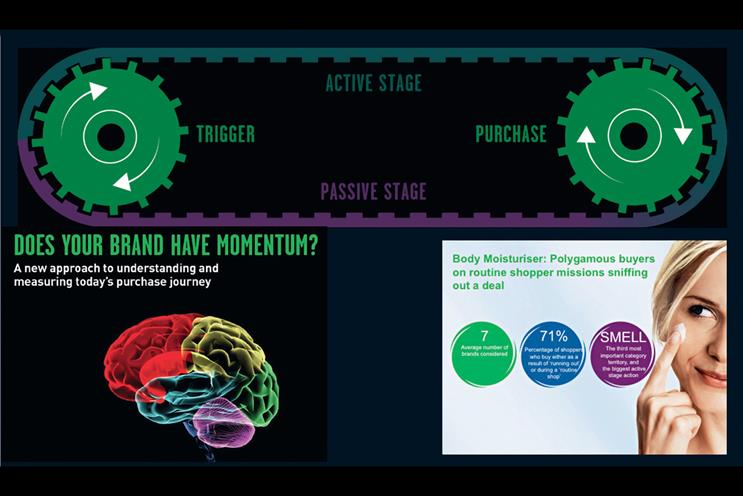 We've all become familiar with nudge theory in recent years. Now, the brains at MEC believe they have mapped out the other, more mysterious, half of the customer journey with Momentum.
Some two years in the making and after investment in the region of $1.8 million, the agency is at pains to highlight that Momentum is not just another nail in the planning armoury toolkit. It claims to be the real, game-changing deal: one of the largest global studies ever undertaken into the shopper journey and psychology of choice.
Momentum examined the purchase decisions of more than 100,000 consumers, across multiple categories and countries, through extensive qualitative and quantitative research.
"I've worked at MEC for 18 years and this is, by a country mile, the most exciting thing I've ever worked on," Damian Thompson, its head of consumer insight, said.
At its core, Momentum describes the purchase decision journey as a continuous cycle with four stages: trigger, active, purchase and, most notably, passive.
Drawing on the latest thinking in decision-making psychology, it is Momentum's revelations around the passive stage that provide thereal insight. This underresearched and often misunderstood part of the purchase journey is said to reveal blind spots for brands. It is during this stage where many biases are formed, which go on to affect purchasing behaviour.
Momentum reveals that people with a strong passive-stage bias consider fewer brands, spend less time in the active stage, are less concerned with price whenmaking their choice and are happier with their decision after purchase.
The study also enables marketers to score a brand's momentum against the competition and identify ways to convert people from the passive stage to the active stage.
"Some brands get hammered in the active stage," Thompson explains. "Momentum can show you who should have bought your brand (based on passive-stage bias) but failed to convert into an actual sale.
Marketers need to know why they didn't buy your brand and which touchpoints they should use to influence them in the future."
Another core part is theimportance it places on the context in which messages are received. Paid, owned and earned media are found to play different roles not only in different brand categories but at different stages within those categories. This differs from the idea that touchpoints can be grouped into typologies, irrespective of category or purchase cycle.
Stuart Sullivan-Martin, the chief strategy officer at MEC, says Momentum offers much more than how best to tweak existing media plans. By recognising and measuring the entire purchase journey, he points out, it gets to the heart of how and why people make decisions and provides highly actionable outputs.
"Our insight into the purchase journey means that we now must adopt a new approach to brand communication during the journey," he says. "Strategic comms planning is what MEC does and we see it as our responsibility to bring this new thinking to bear for our clients."
Whether Momentum turns out to be truly revolutionary or is just another turn of the wheel remains to be seen. But, in an increasingly competitive landscape, brand owners are looking at every new way to gain an advantage.