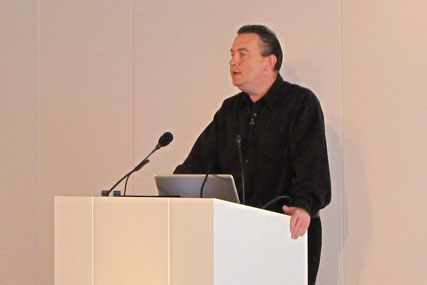 Speaking at Media Week's Media360 conference, the global marketer responsible for selling €40bn worth of "soap, soup and tea", said the world had changed more than marketers have accepted or absorbed, and heralded "a new era of remarkable opportunity".
Clift said: "As brand custodians, the speed of change has genuinely outpaced our ability to meet it," but warned "there's such inertia in the old model, we risk as marketers behaving as if it's still here."
Drawing on a number of contemporary case studies, Clift demonstrated how today's media can be more powerful than ever when approached in a different way.
Ben & Jerry's is currently Unilever's fastest-growing ice-cream brand, yet it's never advertised on television in the UK. Instead, he said, the brand had been "particularly brilliant" in using social media, attracting 450,000 Facebook 'friends' within the first couple of months of establishing a presence.
The marketer also mentioned a Canadian viral for Dove's 'real beauty' campaign, which had been seen by 140 million viewers.
"It constitutes probably one of the highest viewerships ever for a commercially branded video," he said. "And shows how great creative can deliver a disproportionate return on investment."
Delegates were also introduced to the new media phenomenon Julia Allison, the American woman who successfully harnessed technology to become rich and famous despite "no resources, no agency and no discernable talent".
Through the use of PR and digital tools like Flickr, Blogger, Tumblr and Twitter, Allison has managed to get herself profiled in the New York Times, Wired and on the cover of Time Out New York.
"She managed to get herself famous on a dollar and a dream," he said. "Imagine what we should be able to do with our brands and our resources."
Clift called for marketers to rethink how consumers interact with their brands, taking into account their desires and concerns, and belive in the concept of a brand as a "positive agent for change" .
He admitted to feeling uncomfortable about having to play catch up with the consumer, and said the industry was only " just beginning to seize the opportunities".
Follow the conference via Twitter @MediaWeek