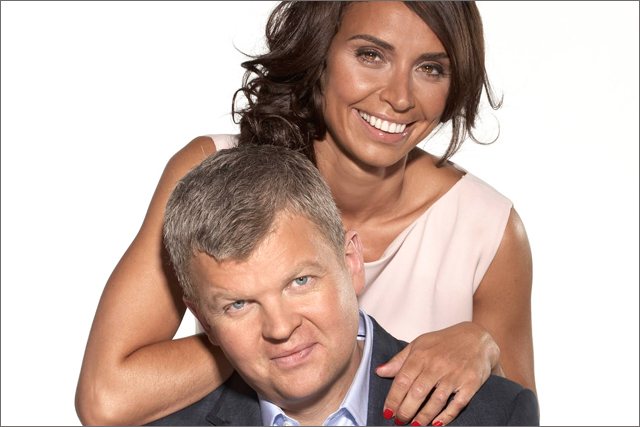 ITV has declined to comment about Chiles and Bleakley's reported departure, but an industry source confirmed they will be leaving the morning show, which launched to great fanfare in September last year.
'Daybreak' replaced GMTV, and former 'The One Show' presenters Chiles and Bleakley joined ITV from the BBC to front the show as part as part of a major "golden handcuffs" deal, reported to be worth £6m.
The first 'Daybreak' show on 6 September 2010 attracted an average audience of 1.01 million between 6am and 8.30am, a 24.9% share. However, the show has struggled to maintain those figures.
Last week, 'Daybreak' had an average audience of 802,400 between 6am and 8.30am, Monday to Friday, while BBC One's 'Breakfast' had an average audience of 1.48 million between 6am and 9.15 am across the week.
On Friday (18 November), ITV confirmed Bleakley would replace Holly Willoughby to present the next series of 'Dancing on Ice'. Willoughby is to front the new BBC singing reality show, 'The Voice'.
When questioned about Chiles and Bleakley's departure today (21 November), an ITV spokesman said he "does not comment on speculation".
One media agency trader, who asked not to be named, said: "Changing the presenters is probably a good move. They were brought in to grow the audience and so far they have suffered too much of a decline for them to continue."
However, the buyer contested the suggestion that advertisers had pulled out of the programme although he said many advertisers will have spent less because the audiences have fallen.
Another media industry source, who asked not to be named, agreed that the show had not been abandoned by advertisers, despite the audience decline. The source said: "I've been surprised how robust revenues have been."
Phil Hall, head of TV at WPP media agency MediaCom, said: "In retrospect the changes that have been made have been far less successful than ITV Breakfast would have wanted. With GMTV, everyone knew what it was and it had a decent and loyal audience.
"That said, no one's saying 'pull off breakfast TV'. Everyone gets what breakfast TV does and that hasn't changed, although the volume had gone down."
ITV bought the 25% share of GMTV it did not already own from Disney for £22.25m in November 2009. However, ITV Breakfast is still traded separately to the rest of ITV.
Hall said there was a "lot of goodwill" for ITV Breakfast in a value-driven market and the team, led by Ashley Newman, were known for being "good operators".
Follow Maisie McCabe on Twitter @MaisieMcCabe