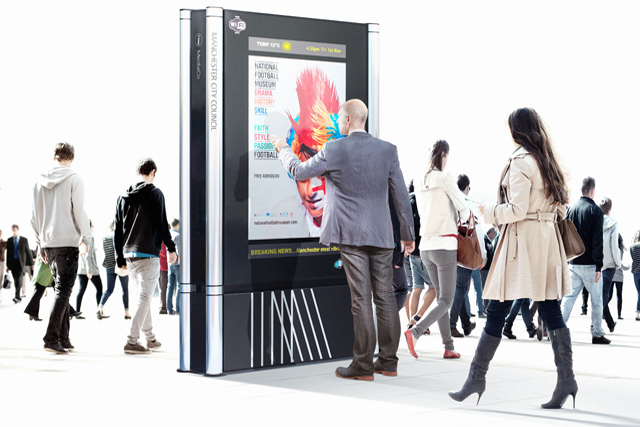 Clich might say that every problem is really an opportunity, but in the UK media market you might be forgiven for only seeing challenges. Consumer demand for content puts pressure on creativity.
Advertisers want better ROI, at a time when marketing across so many different channels demands differ- ent budgets and more specialists and expertise. Above all, if digital media can respond in real time, as the consum- er feeling the Google effect might have it, then other channels must be able to respond with real-time services, responses and the ability to optimise creative at a push.
Of course, creating and distributing real-time advertising is one thing. Using current trading models to implement and optimise these campaigns is another.
Big-brand advertisers, including Google, O2 and Vodafone, have found one solution to this chal- lenge. All three have signed up for the launch of CityLive – a network of state-of-the-art interactive dig- ital touchscreens in Manchester city centre.
The screens allow creative to be optimised and updated in a campaign period to boost audience potential and engagement. They also offer real-time trading. Advertisers can also buy audience impressions, creating greater accountability from Out of Home.
Richard Blackburn, the commercial director of MediaCo Outdoor, which is launching CityLive with Manchester City Council, also says the new system means advertisers can both track and update campaigns in real time, meaning advertisers can up the volume (in terms of impressions), or change the creative of their campaigns.
He adds: "Advertisers can also tailor their campaign costs by inputting a budget into our CityLive planner and it will show how a campaign will look across the booked period and show the distribution of budget."
The screens went live last week (1 November) with the capacity to deliver more than 2.6 million adult impacts per week in Manchester. Advertisers are able to run interac- tive campaigns of any duration, and demographic and lifestyle information will be delivered by the hour, by day and by month.
Facial detection, in addition, offers the opportunity for greater creative efficiency. It will allow real- time advertising, targeting both gender and age, and brands can better understand where, when and for how long the creative has been seen.
CityLive brings branding and real-time trading opportunities together
On a network of state-of-the-art, 20 ultra-premium touchscreens reaching an urban audience, CityLive is bringing branding and real-time trading opportunities together for advertisers.
"We are delivering greater relevancy for audiences and greater accountability for advertisers," Richard Blackburn, the commercial director of MediaCo Outdoor, says. The high-specification and versatility of the technology in the screens, as well as their size, deliver great branding opportunities and, for creatives, they offer great activation opportunities for ad campaigns.
James Davies, the strategic development director at Posterscope, says: "We have advocated a more audience-based approach to OOH trading for a long time and are excited by these plans by MediaCo Outdoor. Being able to effectively integrate with other aspects of digital marketing is a crucial factor for the continued success of Digital OOH. CityLive enables this on a number of levels – from mobile interaction to real-time content."
Planning and insight – what advertisers get
1. A web-based audience optimisation dashboard for clients linked to live availability (CityLive Plan)
2. The ability to track audience build and interaction data (from facial detection (CityLive Look) and nfc outputs) so that, if required, they can adjust or test different creative during the live campaign (CityLive Enhance)
3. A post-campaign analysis reporting system (CityLive Report)
Live in Manchester – 5.2 million impacts via CityLive touchscreens
An interactive network of 20 ultra-premium digital touchscreens are located in major pedestrian areas of Manchester city centre.
Each unit is fitted with multipoint touch functionality, built-in nfc, WiFi, HD cameras, high-quality directional audio, a live local news and weather data feed, city interactive wayfinding and a facial-detection system.
CityLive will bridge the Out-of-Home sector with other media opportunities and will reach 5.2 million adult impacts every two weeks.