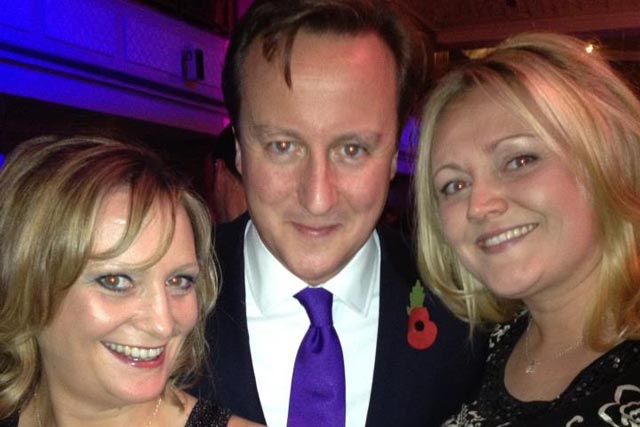 Prime target
It seems to be a week for awards ceremonies (this girl is still recovering from the Media Week Awards).
On Monday, down the road from the IPA do at the Park Lane Hilton was a little bash put on by The Mirror and sponsor Lidl – the Pride of Britain Awards. Celebrities in attendance (and Carol Vorderman) included the gorgeous Jon Bon Jovi, Robbie Williams and 'X Factor' judges Gary Barlow, Nicole Scherzinger and Tulisa, oh, and the prime minister, David Cameron, who was more than open to posing for the odd snap or two.
Media luminaries caught mugging for the camera with Dave (the former director of corporate affairs at ITV also rans Carlton Communications) included head of press and cinema at Initiative Vanessa Doyle and head of press at Carat Zoe Bale.
Another top PM stalker was Rob Lynam, head of display at MEC who was even bold enough to go for the handshake...
Tommy two-ways
This girl was lucky enough to spend Monday evening at the IPA Effectiveness Awards at the Park Lane Hilton in company including: Nicola Mendelsohn, IPA president (and all round brainbox glamourpuss); Paul Bainsfair, director general; James Wildman, Yahoo managing director; Mark Creighton, Mindshare's chief operating officer; and Matthew Dearden, Clear Channel's chief executive.
Host for the evening was the surprisingly naughty Gyles Brandreth who revealed a hidden family heritage in advertising, made a badly-timed joke about Media Week sister title and IPA partner Campaign's circulation figures (which he immediately retracted) and confessed he was "very much a Waitrose man, but liked a bit of Aldi on a Saturday night".
This had followed Gyles' flirting (mainly with the men) and his own instance that he was very much a "Tommy two-ways".
Alright Gyles, Bitch gets it, no need to ram it down her throat...
Macho man
This girl likes nothing better than a man with a big, butch handlebar moustache (they're all straight, right?) so she's getting ready for the annual facial hair outing that is Movember.
The basic premise is that all the guys in the office get to channel their inner Village People and grow a big old bushy moustache for a testicular cancer charity.
So this girl is glad that more than 150 of the boys at out-of-home specialist Clear Channel have decided its fun to stay at the YMCA and become a macho man, by launching their own effort.
The run up kicked off the other day when goodies were handed out to all staff as they arrived for work, including Movember treat (such as wrist bands, posters, badges) and hand-made moustache-shaped cookies.
A giant moustache was also created, attached to the mirror in reception and will remain there throughout the month of November. Good luck my little outdoor types.
Pictured are Steven Davis (director of transformation), Amy Chandler (charity, barter and inventory co-ordinator) and Guy Melzack (communications manager) who organised the reception. Don't think you're getting away without a picture of the finished product Steven and Guy...
Smell the glove
Speaking of charitable types looks like WPP agency Maxus have been up to all sorts this Halloween to help out Muscular Dystrophy sufferers.
Not only was search director Mark Pain made to wear "the glove" all day (rumours that he was asking people to smell it in an homage to Spinal Tap remain unfounded), but the BT team at the agency decided, Bitch suspects in a moment of slight madness, to form a human pyramid in the middle of the agency's offices.
Looks like from the photo they actually achieved it. This girl is impressed.
Bitch hears that other dares included human resources who dared office manager Alice Maloney and PA Liz Toni to be silent for one whole hour so they can't speak to anyone unless it's on the phone or by request of senior management.
Search director Roshan Paramananthan who has dared saerch manager Emily Barnard begin every conversation with "wha'gwan".
Media manager Nina Christensen who dared the press boys to dance gangnam style in the middle of the office.
Planner Sarah Potter who had to walk up and down the office preparing to be a monkey.
Analytics manager Harry Davison who dared chief executive Lindsay Pattison to support the products of client C&D by using Batiste dry shampoo to spruce up her hair instead of going to the salon.
And last, but not least, social media project manager Holly Peacock who dared Alice to go on a feminist march with her.
Until next week my little acrobatic types.

Bitch xxx