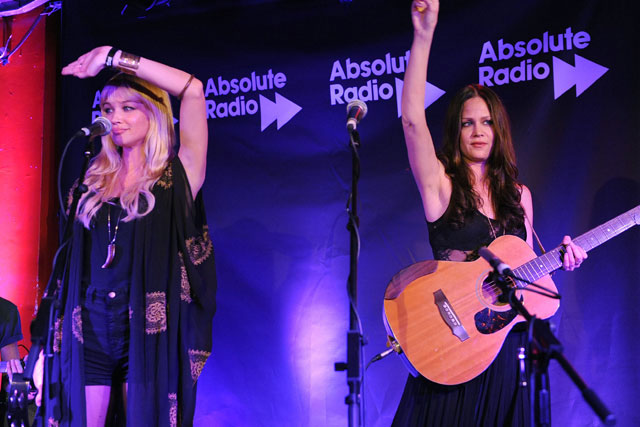 Nuts for Poker
Those boys at IPC Media's Nuts magazine have been up to their old tricks again, Bitch has been told, led by chief ringmaster Rob Hunt, head of creative media for IPC Inspire Men & Music.
Launching the inaugural Nuts Poker night at the Fox Poker club on Shaftesbury Avenue, several naughty boys from media agencies including Rod Winter-Reynolds from OMD, Andy Power and Mark Grady from Starcom and Krys Piotrowski from Zenith Optimedia were treated to a night of decadence on behalf of the best-selling men's weekly.
Highlight of the night looks like the presence of Nuts girls Lacey Banghard (a girl after Bitch's own heart, with a name like that) and Beth Crowley.
Bitch only hopes that the boys told their girlfriends before they went out, but she's guessing not – naughty boys.
Who ate all the pies?
Bitch thinks that football may be getting a little more interesting for some of you out in medialand, after getting a special present from ESPN.
For the third year running, Bitch hears that the broadcaster will be delivering 25 waist-busting pies to selected media agencies including (oh well, she'll do the list: MediaCom; Mindshare; MEC; Carat; Vizeum; OMD; PHD; MG OMD; ZenithOptimedia and Starcom MediaVest).
Bitch doesn't want to start a riot, as there have been far too many of those for her liking, so form an orderly queue. And she would suggest that it's one each, as nobody wants to be accused of "eating all the pies", do they darlings?
The heartbusting snacks are to promote launch of the enhanced free ESPN football video app and the broadcaster's coverage of the new Barclays Premier League.
It's the third year the broadcaster has been expanding the waists of media planners and buyers, with Steak and Guinness, Chicken and Mushroom, Mince and Onion and (for the veggies) Feta and Spinach pies, and for the first time, they'll be handing out 1,000 (yes that is 1,000) pies to the public at Finsbury Avenue Square (near Liverpool Street station) at lunchtime today.
That's a better message to tweet out darlings than what has recently been going on by some very naughty people on social networks recently.
Absolute carnage
Well Bitch is never one to turn down a free drink, and she didn't have to this week, with a little shindig put on by her friends at Absolute Radio sponsored on behalf of the Kronenbourg 1664 Slow the Pace Campaign at the beginning of the week.
The gig was headlined by The Pierces with Benjamin Francis Leftwich supporting and held at the 100 Club on Oxford Street this week.
One rocker that didn't make the party was the frontman for the Slow the Pace Lemmy from legendary hard party rockers Motorhead.
Then again, Bitch has experience Lemmy from a hard rock festival she was invited to years ago by her friends at Bauer's Kerrang! magazine and although he's an absolute sweetie, if he had of turned up Bitch is sure that the bar would have been pretty much drunk dry by the end of the night, although she hears the assembled agencies gave it a good go.
Well, Bitch is well aware that there are some Summer parties coming up next week, so if you don't want Bitch to get to know, do behave yourselves – but she hopes you won't.

Cioa. xxx