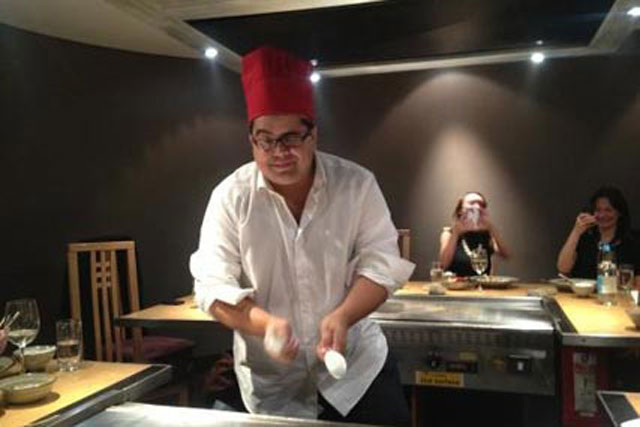 The Mullins menu
Occasionally, this girl gets tipped off about some of the most hideous crimes in media. Fiddling the books? Stealing the stationary? Sending an email to the whole agency? Not this time, it's even worse.
Bitch has been forwarded this particular photo that shows crimes on a stunning culinary scale. The cheeky snap is of head of trading at the7stars Liam Mullins trying to cook up a storm at a client dinner for the independent media agency (and doing quite a poor job according to this girl's spy.
The incident happened at Benihana in Piccadilly, but rumours that Liam has been asked never to darken their door again remain unfounded.
I want my MTV
Bitch hears that it was a weekend full of sausage and weinerschnitzel as the media industry shipped out to the glamorous MTV EMAs in Frankfurt to party along with host Heidi Klum (drop-dead gorgeous, darlings), Taylor Swift, Muse, Rita Ora and Gangnam style Korean rapper PSY.
Reporting back from the event, one of the Media Week boys was surprised that, despite the superstar event at Frankfurt's Festhalle, the best time to be had was actually before the event, with the MTV commercial team. Sworn to Chatham House Rules (sort of) tales started to surface of a "mad night out" that involved a "posh Italian restaurant" that "seemed to turn into Cinderella Rockerfellas after 10pm.
The fact that Ms Klum was dressed as a ringmaster (mistress?) at the event the next night seemed to lift his sprits however, Bitch hears.
We're just here for the beer
Looks like Starcom Mediavest is the place to be this week for the meandering media owner, as it attempts to educate the masses in the benefits of Heineken. The Publicis-owned agency is holding its own Oktoberfest hosted by chief executive Stewart Easterbrook, replete with brand-themed rooms for client Heineken.
Guests can sample the Heineken, Fosters and Amstel rooms among others this girl hears, but as you're all teetotal out in Medialand, she expects there won't be much take-up. Just don't get crushed in the rush…
Until next week my little tipple types.

Bitch xxx