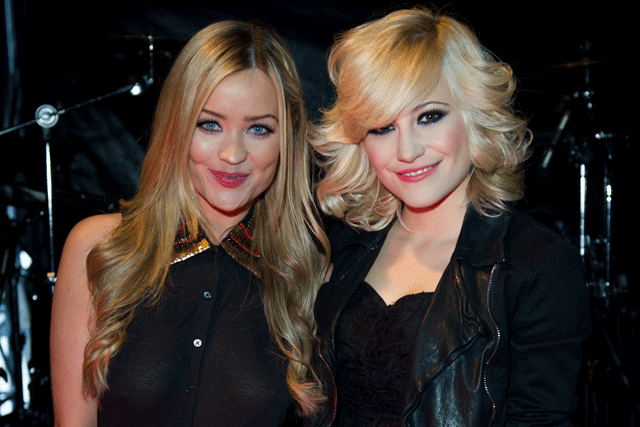 Belfast Bitch
Well, my little poppets, this week Bitch has all the gossip from the 'MTV Presents Titanic Sounds' event held just outside Belfast's new Titanic Belfast exhibition.
A group of movers and shakers (and general liggers) were flown out to the Northern Ireland capital to attend the event, next to the slipway where the doomed ship was launched, where the assembled throng were treated to sets from Pixie Lott (who Bitch definitely wouldn't suggest is spreading herself a bit thin after performing at the Nabs bash last month), Katy B, Sean Paul (who started a search for an iron for his shirt), Olly Murs and those little rascals, Rizzle Kicks.
Everyone, bar Sean Paul (who insisted on flying in by private jet, Bitch hears from one of her sources) kept it real by flying cabin class to and from the gig – so much so, that Jordan from Rizzle Kicks was told, in no uncertain terms, to switch off his headphones during takeoff by one irate flight attendant.
However, not as bad as one Media Week staffer, who, this girl hears, was sitting next to the gorgeous brunette singer Katie Melua (on her way to a different BBC gig on the plane out) and failed to recognise her.
After being taken to task when he landed, said staffer imparted that "the dark-haired girl" had asked if she could pay with a credit card (denied) and had ordered a bottle of Pepsi, a Kit Kat and a small tube of Pringles.
Bitch really needs to whip these Media Week boys into shape and get them to sharpen up their observation skills, or they'll be getting a sharpened stiletto somewhere that hurts…
Anyway, it all got a bit messy toward the end of the night at the aftershow at happening club El Divino, where MTV presenter Laura Whitmore made a (brief) appearance, with some of the throng not satisfied with the 4am curfew at the club and insisting their hotel bar reopen.
To say that the Belfast City airport looked like the 'Night of the Living Dead' the next morning is an understatement, Bitch hears.
Stamp of approval
Winning the £5m Royal Mail account seems to have got the post room at UM London all excited, this girl hears, with them even printing their own stamps. All right, that might be pushing it a bit, but not if the evidence that dropped through to one of the Media Week boys, who recently celebrated a bit of a landmark birthday (and tried to hide it from most of the industry).
However, one Mark Middlemas, managing partner for marketing at the Interpublic agency did manage to find out through someone loose-lipped at Haymarket Towers, and sent a birthday card (bless). It was only when Bitch was shown the envelope that it was revealed that Mids had his own personal stamp. Well, that's one way to hook in a client.
Knowing me, knowing you
Bitch knows that a lot of you media boys do a fairly good impression of Alan Partridge, so will be pleased to here that his creator Steve Coogan will be the guest presenter at this year's Media Society dinner.
The black-tie dinner at the Corinthia Hotel, London on 24 May will be to honour The Guardian editor Alan Rusbridger and journalist Nick Davies, Bitch hears.
Co-incidentally, they are two of the key journalists who first printed a certain story that was all over the papers last year regarding mobile phones, and one of the victims of those revelations, a certain Mr. Coogan…Ahah!
Until next week my little scandal mongers.
Bitch xxx