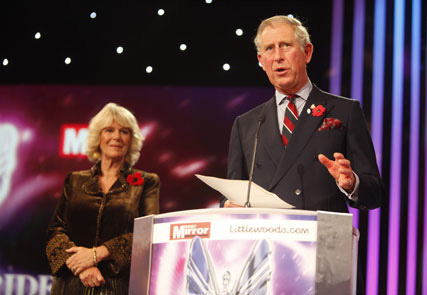 Pride of Britain Awards has the X Factor - just ask Wagner

To Grosvenor House for the Mirror's Pride of Britain Awards, where media faces such as MediaCom's Claudine Collins and PHD's Daren Rubins mingled with celebrities of all descriptions - from Sir Alan Sugar to Russell Brand, Christine Bleakley and even the mighty Simon Cowell.
Once the paparazzi had stopped taking photos of Cheryl Cole, Mirror editor Richard Wallace welcomed the Prince of Wales and the Duchess of Cornwall, "here in honour of the tenth anniversary of the Prince's Trust Young Achiever Award - and, of course, because the Mirror is their favourite paper".
Host comedian Michael McIntyre said of James Pout, who won the Outstanding Bravery Award for rescuing a man from the path of an oncoming tube: "I read that James had taken a late-night tube and stopped there. I thought 'How brave, no-one else would have done that… except Wagner.'" Cue the reply from the larger-than-life X Factor contestant sitting in the audience: "Of course I would!"
Click here for more photos from the Pride of Britain Awards.
Fading celebrity wants a little touch of Harry in the night
On the subject of X Factor contestants, the Pride of Britain Awards ended on an eyebrow-raising moment when a fading celebrity gave her 'calling card' to Harry Styles from boyband One Direction (below, centre) as she exited the party.
Bitch will not name the lady in question - who was behaving 'erratically' by 9.30pm - but let's just say she is old enough to be 16-year-old Harry's mother…
Career women-gate: the ones that got away
Cast your minds back to January, and the tears, tantrums and threats to leave dirty nappies outside Garry Lace from Beta's offices after Mumsnet took objection to the OAA's 'Career Women Make Bad Mothers' creative.
"Old news," you cry. Yes, but what Bitch can reveal for the first time is two potential creatives that - thankfully - never saw the light of day, after being vetoed by the OAA board. The first: a picture of Michael Jackson with the strapline "Does It Matter If You're Black or White?"; the second, the snappy: "Bankers or Wankers?"
The OAA's then chief executive Alan James was on holiday in India when the scandal broke - but if either of those two works of creative genius had been chosen, perhaps he would have done better to head to Ulan Batur… or even the Moon.
Could Miron land the keys to GMG's millionth motor?

Never mind Prince William's engagement, the biggest excitement on Tuesday was GMG Radio's "spectacular" 18-hour fundraising marathon, when Real, Smooth and Rock Radio joined forces to raise over £300,000 for Help for Heroes.
The fundraising was driven by an auction of items donated by JLS, Take That, Peter Kay, Lewis Hamilton and James Blunt, and listeners have two weeks to vote for "a piece of automotive history" - the one millionth Range Rover off the production line, as donated by Land Rover.
GMG's chief executive Stuart Taylor (pictured below with Jools Holland), recently joked Global Radio's ceo Stephen Miron will follow "in a large car" when he does his cycle ride for Help for Heroes next year. So this capacious motor could be just the thing - as long as Miron has a spare £153,000, that is.
Celebrity chair steals the show at barter firm

On the subject of auctions, Dean Wilson, vice-president of barter company Active International, is sitting pretty after bidding £5.5k for the last-ever Big Brother chair (below) at the Childline's Got Talent Ball, hosted by Amanda Holden.
The famous chair, now in Active's London office, has become a celebrity in its own right: staff eat their lunch on it and visitors take their photo with it and post the pictures on Facebook. "My staff say I can never, ever get rid of it," says Wilson.
But Wilson's luck didn't stop there - he also took home afternoon tea for four at the Petersham Hotel in Richmond and a wig owned by presenter Stavros Flatley, the Greek dancer from Britain's Got Talent, who told the balding Wilson as he took it off his own head: "Looks like you can do with it more than me mate."
So will Wilson take Philippa Brown, chief executive of Omnicom Media Group, to tea in Richmond to thank her for inviting him to the ball? Not a chance. "I was thinking what a fabulous Christmas present it would make for my parents."
It's official: Posterboys are the brainiest in media

Readers who had a quiet night in on Wednesday (17 November) - as opposed to drinking heavily at the Campaign Media Awards - may have spotted Clear Channel's finest brains competing on BBC2's quiz show Eggheads.
Clear Channel's team, The Posterboys (below), drew together the formidable intellects of Seumas Grey, George McGhee, Steve Atkinson, Neil Thompson and Lee Mabey, with Steve winning against Judith Keppel on sport and Neil, Lee and George losing on science, geography and food and drink respectively.
The only Posterboys to make it through to the final round were Steve and Seumas, who didn't know enough about The Fimbles, knew far too much about Glenn Medeiros and didn't have a clue how many sealskin spots are on the ermine robe of a viscount. FYI Steve and Seumas, it's two-and-a-half rows.
A sticky situation for ITV boss Adam Crozier
And finally: Bitch hears that Keith Lemon stole the show at last month's ITV Upfronts 2011, where "the very wonderful and very gorgeous" Ant and Dec (thanks, Fru Hazlitt), presented the "biggest and best shows for next year".
In fact, one media agency executive found Lemon so amusing that, laughing hard, he managed to spit some "chewed up Jelly Bean onto the chap in front". Awkwardly enough, that person turned out to be ITV's chief executive Adam Crozier - although, the mole reports, "luck was on my side as he didn't notice". Phew!