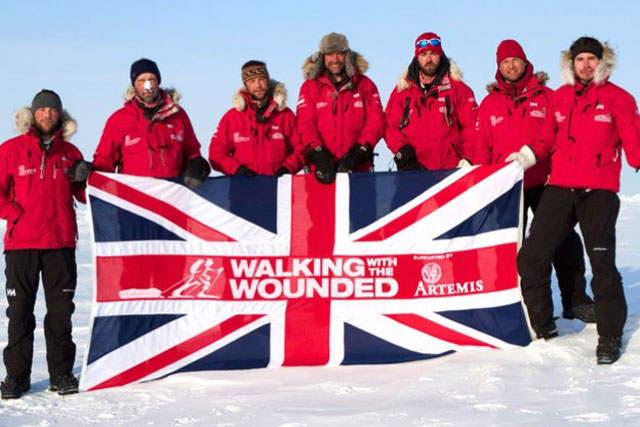 Great work, wrong channel
For those of you who might have missed it, media had its very own star on TV this week in the form of Simon 'Dags' Daglish, ITV group commercial director, who appeared in the second show recording his escapades during the heroic walk to the North Pole on behalf of the charity he co-founded, Walking with the Wounded.
The programme, called 'Harry's Arctic Heroes' (Bitch's favourite Prince Harry was on the trip too) was a triumph, critically lauded, and pulled in an average audience of 4.46 million viewers between 9pm and 10pm during a difficult Tuesday night slot.
All great news and a boon for television. Only problem being, Dags' antics were shown on bitter rival BBC One and the programme put ITV's offering on ice.
Looks like Dags managed to dodge a potential ribbing from his new colleagues at ITV's Gray's Inn Road offices, as Bitch hears he is on holiday this week, but she's sure no permanent damage will be done.
If you would like to donate to Walking with the Wounded, click here
Heritage site

Media Week was privileged enough to be invited by MEC CEO Steve Hatch through the doors of the triple-nominated Media Week Awards agency this week, at its SE1 Paris Garden headquarters, which according to the boys, goes under the unofficial tagline "Southwark not Soho".
Earwigging on their conversation, Bitch hears that it's not only clients that visit the agency, but the odd architectural student, amazingly.
The reason for this? It turns out that, during a fairly recent redesign of the offices, MEC had to deal with a visit from the heritage authorities, as apparently, their UK HQ is a protected building. Why? (And please excuse the anorak bit) it's the first building in London to be constructed from "poured concrete".
MEC is apparently accommodating to the architectural students who pop round to ask if they can have a look, but Bitch thinks that said students should really think about getting a life.
Look out for Media Week's Media Agenda with MEC chief executive Steve Hatch landing on your desktop soon.
Building agency relations
News comes to Bitch that today is the annual trip to the home of toy building blocks, Legoland, for MEC's sister agency MediaCom, and at this very minute the great and the good at the WPP agency, including CEO Karen Blackett, will be unleashing their inner child at the company's theme park in Windsor.
The annual event is actually a thanks to MediaCom staff (and their ankle-biters) and a big hat tip to Legoland Windsor itself, which is a MediaCom client.
While there, the assorted crowd will be able to sample the rides, including the new Atlantis Submarine Voyage.
As Bitch has just come back from a lunch rather more suited to adults, where the wine list was well and truly furrowed, she hopes the MediaCom crew had a lovely time with their fish fingers and chips, and jelly and ice cream.
Hope you enjoyed your bank holiday poppets. See you next week.

Bitch xxx