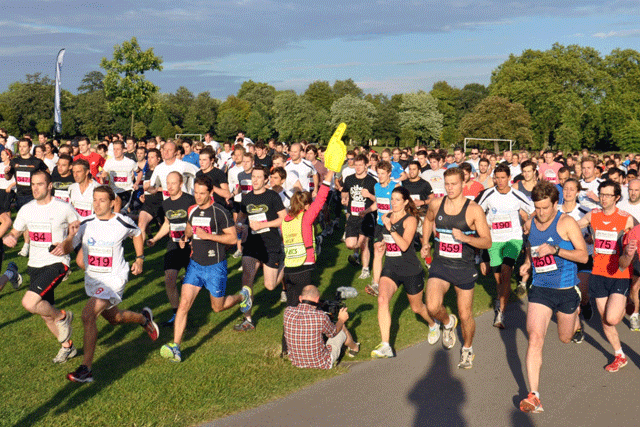 Calm down dear
My Goodness, Bitch knows that you media types are a competitive bunch, but when it comes to a charity event, this girl thinks you could focus on the greater good. The event? The LGN (Look Good Naked) Inter Advertising 5km that once more took place in Regent's Park in aid of a great cause, Ethiopian charity Tesfa.
Defending its title from last year and looking to complete the treble, was OMG Group, consisting of employees from across the network, which includes OMD, PHD and Manning Gottlieb OMD, including team captain and office manager, Ingrid Wagner with an estimated 90 team mates behind her. The outcome was that OMG did it again to become reigning champions.
Bitch hears that one member of the competing group at Carat was not at all happy with this decision, complaining that the group was not representative of one agency. This particular new business guru (and regular in Media Bitch) felt strongly enough to take it up with LGN director Ben Pochee.
Well, Bitch does realise that this particular individual is used to dealing with the new business leagues when sometimes OMG combines agency billings, but really, at a charity event?
Get your rocks off
Speaking of Carat, Bitch hears that the agency's night with rockers Primal Scream turned out to be a bit of a celebrity packed night, with guests including designer Pam Hogg, actresses Samantha Morton and Vicky McClure, and two boys that this girl would offer to be the filling in their sandwich anytime – One Direction's Harry Styles and last year's Media Week Awards host Jack Whitehall.
The band even had Sonic Youth's Kim Gordon as a special guest on stage and performed The Stooges' 'I Wanna Be Your Dog' as a cover version, to spice up their set at London's Islington Assembly Hall, to mark RayBan's 75th anniversary.
The Carat contingent ligging at the bar included the agency's strategy director Lee Ramsey, Paul Hicks, head of brand experience, and Joe Rudkin, head of communications at Aegis media ,all reliving their nineties years as they are men of a certain age. Not as bad as one of the Media Week boys, Bitch hears, who cried off the gig because it would be "way past" his bedtime by the time he got home! Rock 'n' Roll.
Independent women
News reaches Bitch that the inaugural meeting of the IPG Women's Leadership Network got off to a solid start with guest speaker Nicola Mendelsohn (IPA President, executive chairman of Karmarama, wife, mother-of-four and current holder of the 'I don't know how she does it' award), sharing stories of the highs, and sickeningly very few lows, of her 20-year career in advertising.
More than 100 IPG folk (95 women and four men, plus Initiative's chief strategy officer Tony Regan) gathered at Momentum's HQ in Southwark for the London chapter's first event – one of many planned. Nicola offered her top-10 tips for how to cut it as a woman in business, including the importance of having a mentor, positive body language and approachable confidence, together with some refreshing nuggets about not being afraid to expect something called a work-life balance (really?)
The session was chaired by Initiative's new business and marketing manager Lizzie Jarvis. Not to be confused with R/GA's Liz Jarvis, who was also at the event. Laugh? Bitch almost bought her own cocktail.
No tip for you next time
Now we all know that the newspaper sector hasn't benefitted as much as it would have hoped from that rosy glow surrounding London 2012 (apart from the possible exception of commuter freesheet Metro). However, Bitch didn't think that things had got that bad down at City AM, but for one horrible moment this week it looked like it had.
Lunching at the Soho Hotel, the paper's sales director Jeremy Slattery was having a productive lunch – productive that is until the genial Slatts went to leave the restaurant and was pursued by an overenthusiastic waitress who questioned if he had actually paid his bill or not, sources tell this girl.
Of course, as Slatts is as honest as the day is long, it turned out to be a mistake on behalf of the waitress.
Just as well, as she could have lost a very valuable customer, as those in the know can vouch that the City AM boys give the best lunch in town.
Until next weeks my little falsely accused types.

Bitch xxx