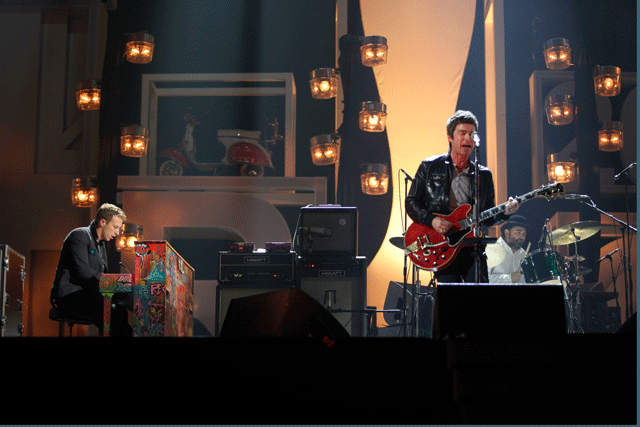 Brits Bitch
Sorry darlings, Bitch took a little break last week while that naughty man Mr Murdoch took precedence with the launch of one of his red-tops – but first to the VIP event of the week, my little pop tarts.
This year, Bitch had access to the premier tables at the UK's most important music awards show (and felt a little sorry for model Abby Clancy who was on an ITV table a couple of years ago, but had been relegated to the cheap seats this time round).
This year's show featured the stunning Rhianna, the gorgeous Adele and some scruffy Britpop lads called Noel Gallagher and Blur.
Sitting within a stiletto throw of the table hosted by Arcadia boss and government retail czar Philip Green, she was party to the very "reserved' Black Eyed Peas front man Will.i.am, who was seated between Green's daughter Chloe, who now "stars" in posh reality show 'Made in Chelsea' and Pussycat Doll Nicole Scherzinger, whom he seemed to be giving a rather frosty reception to.
However, it was Capital Breakfast Show hosts Dave Berry and Lisa Snowdon who really took the freeze-out title, as they circled one of the tables talking to everyone except 'Celebrity Big Brother' contestant and football WAG Imogen Thomas, who the normally super-friendly pair glided by.
Oh, and one thing Will.i.am, petal, if you do get invited to DJ at the after-show party, it's a little egotistical to spin your own tunes.
Temper, temper...
Bitch's media whisper this week concerns a certain newly-promoted managing director who, when his boss found out the story had been printed in one of the trade mags, took exception and jumped up and down on the offending page. This girl is assured it was "all a joke" though.
Of course it was, sweetie...
Prophylactic party
Bitch has also been hearing that a certain condom launch a couple of weeks ago was less than amusing for those in attendance, after receiving a rather tempting invitation promising "champagne, cocktails, great sounds" and "an external laser show."
Bitch hears that guests at the launch of the SKYN condom brand at that media haunt Shoreditch House were a little bemused when the champagne on offer was reserved for the representatives of the brand, and not the guests, that the bar turned "cash" at 10-to-10 (a cash bar in media – they're lucky there wasn't a riot) and that the "external laser show" seemed to consist of the new television ad for the prophylactics being projected on an empty wall.
Agency Idol
This girl knew that things in media were bad, but bad enough that agencies have to sing for their suppers now?
Well, that's what CBS Outdoor might be suggesting with their latest agency initiative. As the out-of-home specialist has just re-signed the deal to sell sponsorship for the busking sites on the London Underground, it has decided to launch a charity "busk off", where media agencies are invited to put "forward a musically talented member of their team to represent them in the competition and entertain travellers" on the Tube.
Bitch hears that "the winner", or "star busker", will be chosen by a panel specially selected by CBS Outdoor UK to win a £1,000 donation for a charity chosen by the winning agency, and will be in good company as Welsh warbler Katherine Jenkins has previously been involved.
Additionally, the winning musician will receive £250-worth of Selfridges vouchers to spend. As this girl has heard some of you do karaoke in the past, she thinks CBS Outdoor deserve a prize itself – for bravery!
Sick as a parrot
To finish off the week my little ones, Bitch has a bit of a plea from John Lush, group head at The Independent, who has been "nutmegged" and is "sick as a parrot" (Bitch isn't going to pretend she knows what that means, the rather rough-looking Media Week boys told her to put that in), when his 11-a-side football league in Battersea on Monday nights folded recently.
Putting his thinking cap on, he emailed the MW boys to help him out, suggesting a media industry super league. So, to help out (and no, unfortunately Bitch won't be holding the towels outside the showers) for any media owners/agencies that are interested in getting a team together, the matches kick-off at 8.30pm on Mondays on the Battersea Park all-weather pitches.
The league costs £750 per team to join and covers 10 matches during a seven-month period, starting in August. Anyone interested can contact John at J.Lush@independent.co.uk
As long as Rupes doesn't plan to launch another tabloid next week, Bitch will see you again in seven days my little ink-stained monkeys.
Bitch xxx