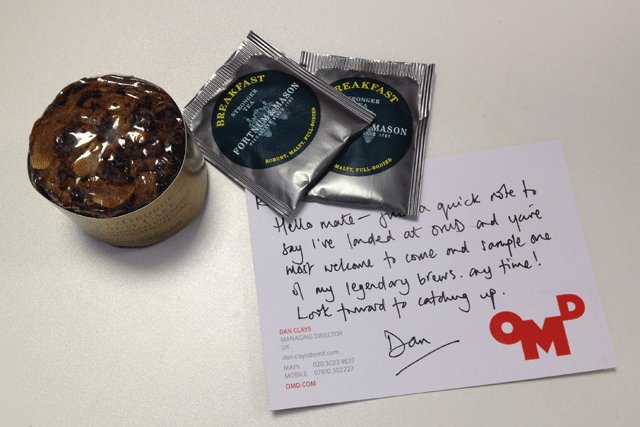 By George, Mr. Clays
Bitch would like to give a warm welcome to Dan Clays, the new managing director at OMD, who she hears was welcomed into the agency in the traditional way, with a few drinks and a mingle in the bar (with a DJ set) to introduce his new members of staff. And if what happened on his first day in the actual post is anything to go by, he's got the strategy part of his job already down to a T, if what arrived at Media Week towers is any indication.
Taking the theme of St George's Day into account, Dan decided to go very traditionally British and send in tea and cake to celebrate his big day.
Normally this girl would come up with some quip, but as it was tipping it down outside, she hears the Media Week staffers enjoyed a good brew.
Premiere ticket
Bitch thoroughly enjoyed the chance to see 'Avengers Assemble' a full week before its official release (and what girl wouldn't, with Robert Downey Jr and Chris Hemsworth's Thor in the cast), but was a little bemused when Matthew Grossman, vice-president of corporate communications for Disney introduced a media screening of the movie at the Soho Hotel.
As he pulled out his pass to the premiere, which happened to be on the same night, he told the collection of journalists and liggers that, "I would rather be in the company of a bunch of cynical journalists, than hanging out with the celebrities on the red carpet in Westfield at the premiere." Bitch knows which one she'd have preferred.
The truth about planners
This girl has been tuning in to News International's Twitter feed of late and stumbled upon something it made public last week in reference to what happens in media planning – and she really feels she needs to share it with you, as one of the Media Week boys (who used to be sales rep and a media planner/buyer) says it's "pretty accurate".
Statements include: "When it's 2am and my boss calls me about a new business pitch..."; "When a rep tries to friend me on Facebook...", and "When I finally meet the rep that's left me 16 voicemails and 41 emails...".
Take a look for yourself here
Until next time, my little sellers and buyers.
Bitch xxx