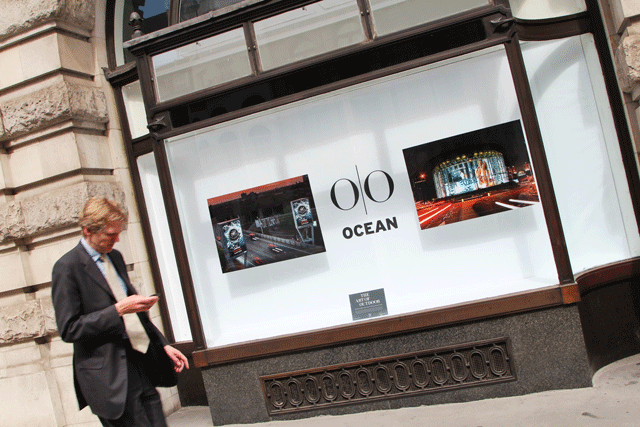 Ocean culture scene
Looks like professional northerner, Ocean Outdoor chief executive Tim Bleakley is moving up in the culture stakes by holding his own exhibition at the salubrious venue that is the outdoor company's offices in posh Mayfair, called 'Art of Outdoor', "showcasing its iconic outdoor canvases", according to the company's own marketing material.
Ocean has taken over four window spaces in its St James' Street headquarters in central London Bitch hears. Ocean Outdoor is proudly bragging that "the windows have been designed and fitted by Concord, who specialise in prestigious retail brands including Harrods."
Said window displays are even "curated" by Ocean marketing director Richard Malton.
Now Bitch knows that Tim must have signed the cheque on this, but in real life, likes nothing more than a hot Bovril and a pie, as he's a Manchester United season ticket holder. Looks like this season he'll be joining the "prawn sandwich brigade."
Working up a sweat
Visitors to the Aegis offices at London's Triton Street last week were faced with more than they bargained for Bitch hears, with a lot of moaning and grunting coming from reception.
It's not what you think. No one was getting amorous in this hot weather (although it brings it out in us all, doesn't it petals?), but select members of the Aegis team were working up a sweat of a less enjoyable kind, putting their backs into some serious exercise on behalf of various charitable causes, including Breast Cancer Care, Different Strokes and the British Heart Foundation, as part of the Aegis Charity Challenge Day.
Staffers involved included Carat new business and marketing guru Charlotte Edwards, Aegis Media head of trading Azon Howie, iProspect's Ben Pilbeam and Media Bitch regular head of new business Stuart Newman.
All worked really hard to raise lots of money for worthy causes, but Bitch was quite worried when one of the Media Week boys forwarded her the pictures from the day, especially of Stuart who looks like he's straining, and Bitch really hopes that isn't his "sex face".


Marty no mates
Bitch has been enjoying the Olympics so far (all those stretchy shorts and Tom Daley in his Speedos does something to a girl), and she's been enjoying attending with her girlfriends as they all see if they can pick themselves up a fit, hotty athlete.
Of course, once they get into their seats it's a nightmare of elbows, make-up and hairbrushes.
Not something WPP boss Sir Martin Sorrell has to put up with though, if this picture is anything to go by, which was sent to Bitch by a media agency source attending the same event at the Games.
Looks like Sir Martin possibly block-booked an entire section to himself. However, Bitch will give him the benefit of the doubt – he probably had friends with him and she's sure they had just gone to the bar.
Dying to roll back the years
Just as a sign off, which commercial director at a famous digital company has been looking a little darker of hair of late and is rumoured to have indulged in the Just For Men treatment in an attempt to roll back the years from his previous silver fox incarnation?
Bitch would ask you to keep that one to yourself and certainly not tweet about it.
Until next week my little vain types.

Bitch xxx