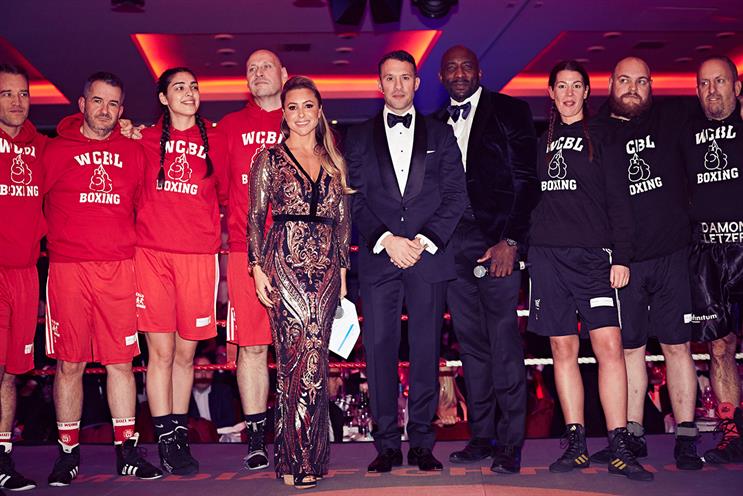 Media Fight Night, the fourth annual charity boxing evening, has raised close to £600,000.
This year's event brought in an estimated £150,000 for the Head & Neck Cancer Foundation, thanks in part to record revenues from kit sponsorship and from donations via MyDonate.
"It feels like an industry initiative that people have got behind and they're very generous," John Maloney, founder of Media Fight Night and EMEA investment director at M/SIX, said. "This year felt like the best year ever in terms of the competitiveness of the fights."
There were eight bouts, including one between women boxers. The results were:
* Matt Bachelor (Bauer) beat Sean Cox (White Collar Boxing)
* Paloma Walder (Canopy Media) beat Leanne Carter (White Collar Boxing)
* Damon Letzer (Mean Broadcast and Infinitum) beat Nick Territt (News UK)
* Tim McCabe (GTN Radio) beat Ben Maher (VIOOH)
* Joseph Evea (Cinevents) beat Martin Broad (Manning Gottlieb OMD)
* Will Jones (Digiday) drew with Nick Stevens (Mail Metro Media)
* Danny Maguire (Essence) beat Ben Smart (Blue449)
* Duncan McCrum (Fifty Media) beat Dave Newton (TI Media)
Jon O'Donnell, managing director, commercial, at ESI Media, was master of ceremonies at the black tie dinner for 1,150 people at the Park Plaza Westminster Bridge hotel.
Boxing stars David Haye and Hughie Fury also took part in interviews in the ring, conducted by boxing presenters Sophia De Stefano and Johnny Nelson.
The event was attended by many of the media industry executives who have boxed at Media Fight Night in previous years.
"The alumni of the event have been great at giving donations," Maloney said, adding that the planning for Media Fight Night 2019 is already under way.