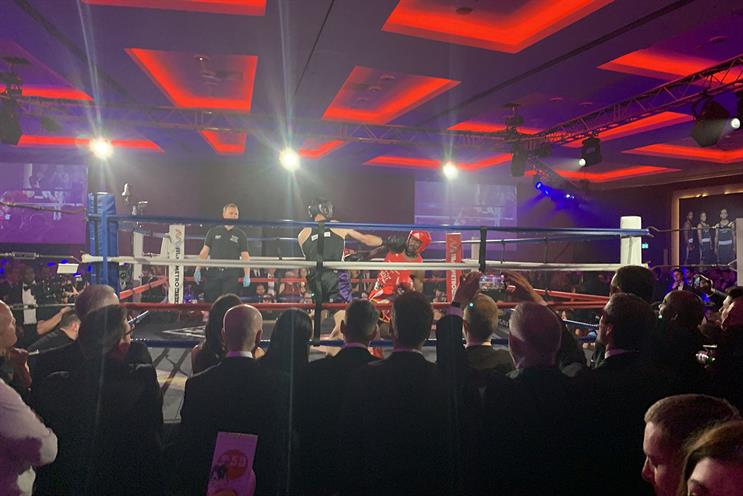 Media Fight Night, a white-collar boxing charity awards dinner, is on course to pass £800,000 in total funds raised, after the fifth annual event brought in a record sum.
John Maloney, founder of Media Fight Night and global chief investment officer at M/SIX, said this year's event at the Park Plaza Westminster Bridge hotel in London is set to raise £200,000.
The money will go to In Your Corner, a charity which organises non-contact boxing to improve people's physical and mental health.
Four previous evenings have raised about £600,000, chiefly through sponsorship and donations, for another charity, the Head & Neck Cancer Foundation.
This year, there were eight bouts, involving seven pairs of men and one pair of women – all employees of UK media companies who spent months training for the occasion.
More than 1,100 guests attended the black-tie dinner, which has become a fixture in the UK media industry calendar.
Maloney encouraged more media executives to take part next year. "It has become an industry event which has been really supported by everyone," he said.
"We'd love to keep it going and we can only do that on the basis of people signing up. It's a once-in-a-lifetime experience and it's for a great cause. You're a celebrity for the night."
Jon O'Donnell, group commercial director at ESI Media, was master of ceremonies and this year's event was streamed live on Twitch for the first time.
Results
Andrew Kitchen (Virgin Media) drew against Chris Pelekanou (Clear Channel)

Amy O'Malley (Manning Gottlieb OMD) beat Tessa Copeman (Manning Gottlieb OMD)
Andre Napier (ADYOULIKE) beat Oliver Wheatley (ESI Media)
Owen Wyatt (The Stylist Group) beat Graeme Symon (Concise Media)
Steven Tapp (Hearst UK) beat Demi Abiola (PHD)
Dino Myers-Lamptey (The Barber Shop) beat Ben Walmsley (News UK)
Andy Power (Miroma) beat Jamie Bolding (Jungle Creations)
Danny Murray (Warner Bros UK) beat David Bex (RP2)