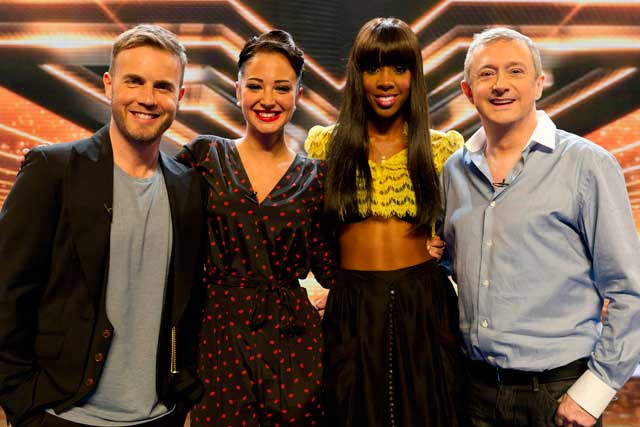 If you want to upset a dyed-in-the-wool old broadcasting corporatist, you can always try arguing that ITV has been more of a creative force in recent years than the dear old BBC. And if you really want to anger them, you might go on to suggest that many of the BBC's successes have actually been derivative of ITV hits (and Channel 4 hits, come to that). Despite the flouncy evening wear, Strictly Come Dancing is still, after all, a celebrity phone-eviction show.
But, actually, the guardians of Britain's TV craft heritage are dead right. ITV, despite its recent run of ratings and commercial success, still has much about which it can afford to be modest.
It isn't, though. Modest. It's currently rather pleased with itself - as you might expect given its latest heartening financial results. And it clearly believes it can continue that momentum. Last week, the ITV chief executive, Adam Crozier, acknowledged that almost all of its big talent show formats are coming to the end of their natural lives and vowed to uncover the next generation of big entertainment hits.
It may not exactly be a breeze, given you could argue that, in recent years, ITV has been better-placed to make the most of ideas developed by the independent sector - for instance, Simon Cowell's Syco.
And yet, the next phase of the game is unlikely to resemble the one we've just passed through. Crozier said that ITV's recent prosperity was very much based on the success of "shiny-floor" entertainment shows - and it would be looking to develop new ideas in this genre.
But, of course, it's not the only game in town. Other types of game shows used to be given more of an emphasis. Ditto quality scripted dramas. Or, indeed, sport. So, what would agencies like to see ITV coming up with on the programming front?
Mark Jarvis, a founding partner at the7stars, points out that the focus tends to be on light entertainment because it's cheaper to produce and therefore more cost-effective than drama. Entertainment formats also offer more potential to generate revenue across multi-platforms. But the network would be ill-advised to neglect drama, he suggests. ITV should, he adds, "be looking at both genres in its attempt to buck the market and increase its revenue base".
But Rupert Britton, the content strategy director at Drum, doesn't exactly see things that way. He thinks that ITV should back up an evolving flagship entertainment portfolio with advertiser partnerships that can derive commercial life beyond the broadcast stream. He would be keen to see properties like the Spots v Stripes Minute To Win It (that ran on ITV2) that Drum developed with Cadbury. "As well as delivering the bigger numbers," he says, "I'd like to see them commissioning entertainment properties in that area too."
However, Chris Hayward, the head of investment at ZenithOptimedia, argues that the network has to continue to play to its strengths - and not attempt to do anything too clever.
He states: "ITV is about delivering large audiences - so new stuff should not target small audiences. Therefore, ITV should resist foreign imports, including whatever is popular on Scandinavian TV. ITV has now established an enviable track record in several key areas - shows such as The X Factor, Downton Abbey and police-based drama."
In recessionary times, Toby Roberts, the managing partner, strategy, at OMD, argues, we often see the cultural mainstream retreating into nostalgia and escapism; but that's often accompanied by great energy and creativity on the fringes. "ITV should look to exploit both," he says. "Who knows? Maybe the next series of Britain's Got Talent will be won by the next Sex Pistols."
Meanwhile, Christopher Allen, the head of vision at MPG Media Contacts, agrees with other contributors that the network will continue to face a drama dilemma. Drama is great for kudos and it delivers the same sort of advertising return as shiny-floor entertainment shows - but it can be terribly expensive to produce.
And, he adds, the beauty of entertainment formats is the "second-screen" activity they sustain on social media platforms. "The return of Ant & Dec's Saturday-night entertainment show, in the autumn of 2012, hints at the importance of perennial entertainment formats and their contribution to the schedule," he concludes.
Got a view? E-mail us at campaign@haymarket.com
MARK JARVIS, Founding Partner, the7stars
"I'd argue ITV needs more drama as well as light entertainment. Drama demonstrates the best of our creative TV industry globally and offers viewers the ultimate TV experience. The problem is cost."
RUPERT BRITTON, content strategy director, Drum
"I think it's right to concentrate on entertainment formats for the big numbers - it has been doing that for donkey's years. But it should also work with advertisers to develop properties that have a (commercial) life beyond the broadcast stream."
CHRIS HAYWARD, head of investment, ZenithOptimedia
"Perhaps it should consider a weekday drama that isn't police-based. I realise drama is difficult and expensive but, when done well, it is a winner. Not another Doc Martin. Not a Downton Abbey spin-off. Perhaps something more akin to Spooks."
CHRISTOPHER ALLEN, head of vision, MPG
"From a general perspective, high-profile drama premieres excite viewers and advertisers alike. Drama can drive ITV's quest to build a strong international content business, and generate revenue from non-spot."