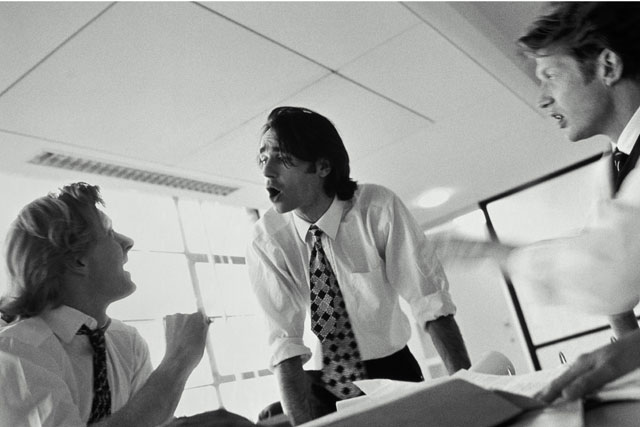 For decades, the TV department has been the engine room of the media agency. Quite rightly so. It's difficult to conceive of a more powerful advertising medium than old-fashioned broadcast TV - and, for an advertiser of any decent size, it has tended to be the lead medium, both in terms of spend and philosophical outlook.
Consequently, the TV boys (and yes, in the main, they are boys) have tended to look on themselves as the elite. In recent years, however, their splendid (and sometimes arrogant) sense of self-importance has been somewhat under threat.
First off was a realisation that the biggest audiovisual revolution in a generation - video-on-demand - was bubbling up at the periphery of their vision. Disconcertingly, this revolution clearly involved some of the people the TV departments knew well (ITV, Channel 4, Sky), but also a whole host of YouTube types that they did not. What's more, the planning and buying parameters were slightly alien too.
And then, in the past year or so, we've seen the arrival of another phenomenon that adds an even more radical dimension to TV as an advertising medium - the emergence of a social media audience responding (on so-called "second screens", from tablets to laptops to smartphones) via Twitter and Facebook to what they're watching on real-time broadcast TV.
In facing these new opportunities, the only sensible course from an agency point of view, surely, is to construct a new hybrid capability that can blend traditional TV department skills with newer areas of expertise housed previously on the online planning and buying floor?
Indeed, that's what many agencies have been doing over the past few months - the latest being Walker Media. Last week, it announced that it was combining its digital display and TV buying teams, and promoting the digital strategist Clive Record to the head of screen.
Sean Healy, Walker Media's managing director, says the new team will deliver campaigns embracing a range of video formats that can work in a complementary way.
"What we want is a clear conversation between a planner and a screen specialist on strategic direction - providing a single point of view on how to build the right mix of screens and content formats, then working in a collaborative way with media owners across their properties," he explains. "Internal silos don't help us to do this to maximum effect or in real time."
Walker Media is hardly alone. Richard Oliver, the managing partner, investment, at UM London, reveals that the agency's TV department has been evolving for a while now. He says: "What we have here now isn't what you would call a classic TV department. It handles TV, TV catch-up, VoD, radio and cinema. But would we do away with our online display department? I think the answer would be no. The reasons clients use digital display are wide and varied - it's not always oriented around TV."
And Daren Rubins, the chief executive of PHD, concurs that the classic TV department hasn't recently become a thing of the past - it has long been a relic. "When I started in this business, I witnessed a TV buyer having a row with a contractor, stand up and throw his phone at a wall, damaging both in the process," he reveals. "Over the years, TV buyers have become much more cultured and sophisticated in their approach, but the real change has been their remit, which has grown to include other broadcast channels including radio and cinema."
He adds: "In more recent years, most progressive agencies have expanded their remit further to include digital trading because the fundamental skills required are the same - strong media owner relationships, meticulous implementational planning, astute channel optimisation, tenacious campaign delivery and rigorous monitoring and evaluation."
John Davidson, the head of trading at Starcom MediaVest Group, agrees that this is perhaps old news. He comments: "Many agencies have already moved to an audiovisual set-up covering traditional TV, video and cinema investment. It's up for debate whether online display sits well with traditional TV - it's horses for courses."
He concludes: "The emerging social TV ecosystem is, of course, the latest shiny thing, but as TV's marketing agency Thinkbox points out, the volumes are relatively low and unproven to date. This could change quickly, with the further growth of Twitter and emerging players such as Zeebox. Change is a given - and forward-thinking audiovisual departments will morph into video performance units."
YES - Sean Healy, managing director, Walker Media
"The traditional TV department will disappear soon. TV teams will give way to integrated operations that plan, trade and optimise pools of content across multiple screens that people watch and interact with."
YES - Richard Oliver, managing partner, investment, UM London
"It's our role to educate clients about the way that consumers are consuming media, the different layers there are now and the opportunities that run through those layers."
YES - Daren Rubins, chief executive, PHD
"At a time when all media channels are converging, our clients are even more reliant on us to help them understand the new landscape and exploit new opportunities. The classic TV department is ill-equipped to deliver this, but a modern investment team can."
YES - John Davidson, head of trading, Starcom MediaVest Group
"TV is likely to dominate over the short-to-medium term, but this is already being layered with increasingly appropriate real-time biddable consumer and client performance data, which requires a rather different analytical skillset."