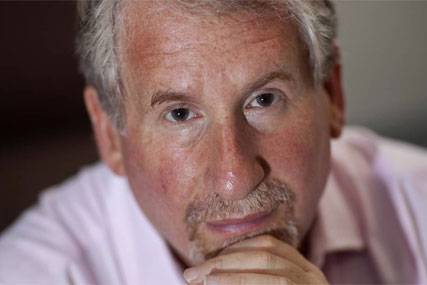 When we ring round some people to find out what we can expect when we meet Simon Kelner, the most unkind thing that anyone can think to say about him is that he can be grumpy. Grumpy? We can all be grumpy. But, still, we're prepared for the worst. Interviewing newspaper editors can be shockingly hard work. They can be vain, punctilious, prickly, surprisingly insecure - and, yes, downright grumpy.
Happily, refreshingly, Kelner is none of the above. He exudes a relaxed charm and the undemonstrative self-satisfaction that comes, you suspect, from the knowledge that he's just helped to reinvent the newspaper business. Again.
His good mood is all the more impressive for the fact that his team isn't doing terribly well at the moment. You can tell he's a Manchester City supporter by the way he starts shaking his head sorrowfully when you try to bring up the subject of football. (That and the framed and signed sky blue shirt hanging in his outer office.)
But we're here to talk about results of a different nature. In the most recent Audit Bureau of Circulations figures, the combined circulation of The Independent and its (not so) little sister, i, a 20p, digestible format daily that offers a condensed version of the main paper, has now outstripped the sale (both on a paid-for and a headline basis) of The Guardian. The headline comparison is: 358,227 for The Independent stable; 262,612 for The Guardian. "We're feeling buoyant. It's a significant milestone. It comes at a nice time," Kelner says, referring to the publication of the 100th issue of i on 15 March.
No-one's getting carried away, he adds quickly. The speed at which i has made its mark is impressive, but it's still relatively early days yet - and no-one's underestimating how hard it will be to maintain momentum in a ferociously competitive marketplace.
Indeed, there are plenty of observers, not least in media agencies, prepared to curb their enthusiasm. True, i's circulation is now 175,714 (up more than 30 per cent on January) with a paid-for sale of 167,944. But circulation on The Independent is down slightly both on a month-on-month and a year-on-year basis - casting a smidgeon of doubt on Kelner's assertion that i isn't stealing readers from its more established stablemate.
And, predictably, sources friendly to The Guardian point out that the picture may not be as rosy as you'd think. Circulation growth has been achieved on the back of a heavy TV advertising campaign - so has been expensively won. The campaign has finished, so it will be fascinating to see if its current sales can be sustained.
What's more, they point out, there aren't many ads in i. It may be a newspaper, but is it a business, they ponder. Clearly, there's an element of black comedy in such a quibble from such a source - but the evidence is there for all to see.
Has Kelner been disappointed by the seeming unwillingness of media agencies to back i? Not a bit of it, he fires back. "It's our job to convince them," he says. "And the way to do that is through continued growth and reminding them of the desirability of our readership, which is largely young and urban, well-educated, professional and skewed slightly (in comparison with rival upmarket titles) towards women."
This is where, in a straight choice with The Guardian (and that's how many buyers look at the market), The Independent and i have a telling advantage. The Guardian's readership is relatively old (46 on average), while The Independent reader is, on average, 43 years old, and i's readership is almost certainly similar to that of Metro, which averages 35.
"We've not had enough figures for long enough to give i the benefit of the doubt. That may now begin to happen," Rob Lynam, the head of trading, non-broadcast, at MEC, reveals.
But, of course, all of this supposes that recent circulation success can be maintained. Kelner says he's just as interested as everyone else to see what will happen now that the TV blitz has ended.
And he can reveal that the next stage in i's evolution will almost certainly be the launch of a weekend edition: "It's no secret we're looking at that. Why wouldn't we? The demand from readers is clearly there - so it would be negligent of us not to respond to that demand."
What's more, he adds, you shouldn't underestimate the levels of resource, both intellectual and material, that The Independent's new owners (newish: Alexander Lebedev purchased the titles in March 2010) bring to the enterprise. "They are absolutely committed to maintaining the Independent titles as papers of international repute," he says - and he's particularly full of praise for the astute contribution made by Alexander's son, Evgeny Lebedev.
Kelner is one of the more experienced editors in the UK newspaper business - and his place in its hall of fame was secured almost a decade ago when he proved to a sceptical market that a compact-sized quality daily really would work.
And, throughout all the turbulence of the past couple of years, when the survival of The Independent was very much in doubt, his sense of optimism has been undiminished. "There's still a wealth of opportunity in the newspaper business for those who are willing to be bold and innovative," he says, concluding: "I've enjoyed the past year, working with clever and supportive people, as much if not more than any period in my career."
THE LOWDOWN
Age: 53
Lives: London and Woodstock
Family: Wife Sally Ann and dachshund Rovi
Interests outside work: Golf, tennis and Manchester City
Last book read: Love in a Cold Climate by Nancy Mitford
Favourite TV show: Recently been immersed in the DVD set of the first
two series of Breaking Bad
Must have gadgets: Sky+ box and a key for a Boris bike
Motto: The secret to a long and happy life is learning not to worry
about things you can't control.