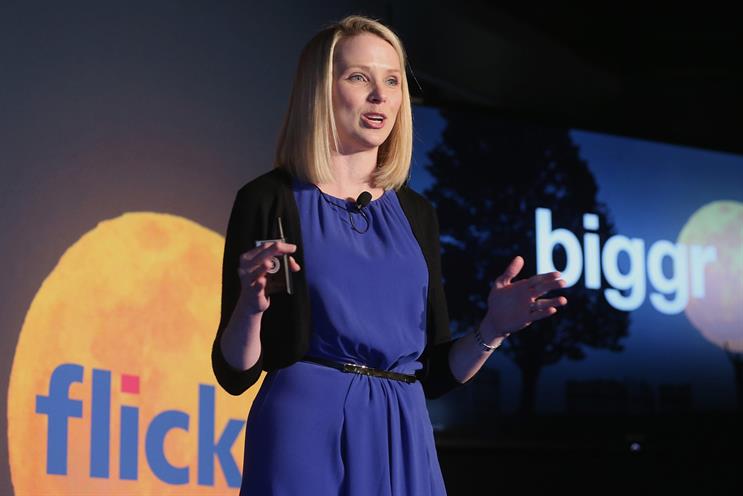 Last week saw some of the industry's biggest global players gather in New York City for the Advertising Week festival.
Celebrating its tenth year, the programme of seminars and events, all based around Times Square, attracted some stellar figures from the media world. They included Sheryl Sandberg, Facebook's chief operating officer; Mark Thompson, the chief executive of The New York Times and former BBC director-general; Alan Rusbridger, The Guardian's editor-in-chief; and Sir Martin Sorrell, WPP's chief executive.
Inevitably, the hot topic was new technology and how advertisers can use it to connect with consumers.
Among the media executives to make the headlines was Yahoo!'s chief executive, Marissa Mayer, who was interviewed by Charlie Rose for the Internet Advertising Bureau. As Sarah Shearman notes in Haymarket Media's new blog TheHub, not even the purple and white jellybeans Yahoo! was handing out earlier in the week (considered by many to be "so 2000") put ad folk off cramming into a packed room in the Crowne Plaza hotel.
Mayer has been credited with rejuvenating the Yahoo! brand, making a number of smart acquisitions and reversing traffic decline. But does she want Yahoo! to reclaim its former seat among the internet giants?
"Not really," Mayer said. "I think in the same way the four players [Google, Facebook, Amazon and Apple] have a hard time partnering each other, Yahoo! is a really strong partner to all of them."
She sees the future direction in mobile: "Mobile is key – we need to be good at apps and the mobile web."
Mayer said the focus on mobile should be on creating the right formats, buying model, targeting and quality controls to enhance user experience. "Mobile is great and it is where all users are going, but will there ever be real revenue? My answer is yes," she said bullishly.
When Mayer took over Yahoo!, many pundits suggested that to reverse its downward fortunes would be like attempting to turn around a cruise liner. Mayer agreed Yahoo! had suffered a "string of bad luck" but added: "I think that one thing media and technology companies live and die by is the people. When you have great people, you can build good things, and that turns into traffic and that turns to revenue."
A recurring theme at the festival was what constitutes "advertising" today. Call it custom content, sponsored stories or native ads – the old-fashioned advertorial is enjoying a new lease of life in our increasingly mobile and social world.
Flying the flag for this new commercial breed online is BuzzFeed, which offers integrated branded content seamlessly alongside editorial. Jonathan Perelman, the company's vice-president of agency strategy and brand development, told Adotas about his vision for the future, in which native advertising is only going to become bigger and more important.
"Think about the last banner ad you saw," he said. "You probably don't remember it because users aren't actively looking for ads. The 85 million unique visitors on BuzzFeed are coming for content. There is no reason why advertising content can't be as – if not more – engaging and relevant than the editorial."
He concluded: "The only way to monetise effectively on mobile is native. How many times have you mistakenly clicked on a banner on your phone? Rough estimates put 40-50 per cent of mobile banner clicks as mistakes. With limited real estate, native or in-stream advertising will become the solution for mobile. Also, as wearable technology becomes more pervasive, native ads will be the only acceptable format."