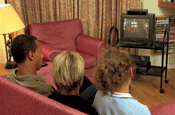 The government is currently consulting on a European directive which would allow limited product placement on TV.

Today's agreement has been signed by ITV and Pact, the industry body representing media companies.

Dawn Simpson, Pact's senior policy executive, said: "This code demonstrates that the industry can, and will, regulate itself to keep standards of UK programming high."

The code would mean:
an industry-wide logo would be displayed at the beginning and end of a programme, and after commercial breaks.;
the programme producer would decide how any products are incorporated into the content, where it is editorially justified, and ensuring no undue prominence;

product placement opportunities would first be identified by the production team when a script has been finalised;
Brands would then be approached by a non-editorial team and commercial terms agreed.
The AVMS directive would permit European Union member states to allow product placement in drama, and entertainment programming, but retain a ban in news, current affairs, consumer advice and children's programming.