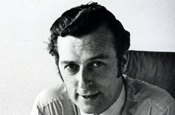 As media director and, later, vice-chairman of Young & Rubicam, he was responsible for the first full-colour ad in the British press.

It ran in 1962 the Bolton Evening News - the first paper to offer full-colour runs - as part of Stannard's strategy of encouraging national newspapers and advertisers to move into colour.

He is also credited with the first commercial radio spot and, when posters first appeared on the London Underground's Bank/Waterloo travelator, he took all the space for a Smirnoff campaign.

It used up the whole of the client's annual budget.

Mike Townsin, who succeeded Stannard as the Y&R media director, described him as "a leader of media innovation in the period immediately before the media independents came into being".

After retiring from the business in the late 70s, Stannard moved to Devon.