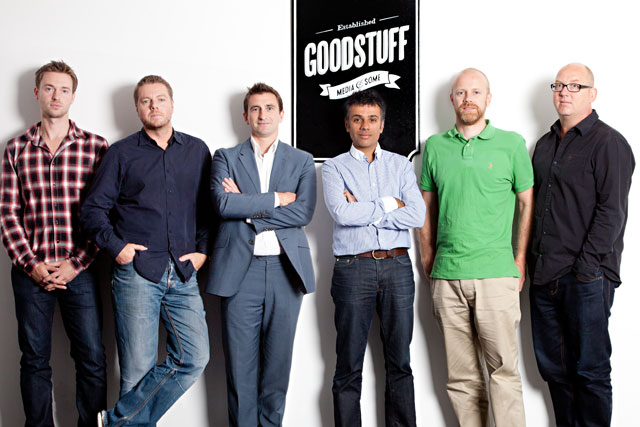 Most creation myths contain, as a fundamental driver of their operating systems, the notion of a fall from grace. And so it is in the advertising business. Our story (or at least the High Church version of our story) is that all in the garden was lovely until some snake told those erstwhile, rather dull johnnies in the media department that they might have a nicer life if they naffed off out of the garden and pitched their tents closer to the fabled land of television and newspapers.
And so it came to pass that a sacred covenant with the supreme being (the client) was, effectively, moving forward, made as nothing. Joined-up media and creative thinking, one of the principal glories of the world before the fall, had gone forever. Or had it? Every now and then, we see evidence that there are small sects of true believers who are convinced that advertising can redeem itself. Joined-up-ness, they believe, can be pieced together again from its shattered and dispersed fragments.
Sometimes, indeed, their very names betray the evangelical nature of their ministry. We give you, for instance, the primal Naked-ness of Mother. Or Adam & Eve's ideation of Eden. And now we also have the story of a demigod, his representative on earth and a prophet crying in the wilderness - known collectively as Beattie McGuinness Bungay - and their corporate determination to embrace the Goodstuff.
Last week, to cut short this shaggy dog story, BMB unveiled a joint venture with Goodstuff Communications to launch a media planning and buying operation called BMB Media. It will be based in BMB's London office, will target medium-sized clients who'd like something akin to the old concept of the full-service ad agency ethos, with buying performance underwritten by Goodstuff's minority shareholder, Omnicom Media Group. BMB Media will be headed by Sam Drake, who has been poached from Starcom MediaVest Group.
Andrew McGuinness, a founding partner of BMB, explains: "Clients increasingly see a competitive edge in ensuring their creative and media thinking is joined up. While the biggest clients have the resources to ensure this happens, others are left refereeing between two different agencies. BMB Media makes getting joined-up thinking quicker, easier and more affordable."
1. Previous similar ventures have tended to involve Naked Communications. When Naked launched in 2000, it was backed by Mother as a minority shareholder - but though the agencies worked on shared accounts and had offices next door to each other, they never went as far as a joint venture.
2. Naked did, however, form a joint venture with CHI & Partners, to create Naked Inside in 2002 - and in 2003, Tim Allnutt, Initiative's planning director, was hired to run it. The unit, created to give CHI's clients access to strategic media thinking, lasted until 2007, when WPP paid £30 million to take a 49.9 per cent stake in CHI. Naked Inside was wound up in December of that year as the agency opted to form an in-house unit, CHI & Partners Media, with buying channelled through WPP's media warehouse, Group M.
3. In 2003, Naked also formed a joint venture with Grey Advertising to form Naked Ambition - but it fell apart in 2004 when one of its architects, Grey's then chairman, Garry Lace, departed the agency.
4. In 2004, Naked also formed Happen and its digital sister, Hyperhappen, in partnership with Fallon. Hyper has since been reabsorbed to form Hypernaked.
5. Naked also formed a short-lived venture, called Element Communications, with WCRS in 2004.
6. In January 2010, Adam & Eve entered into a joint venture agreement with the7stars to launch a media operation called Eden. Headed by Jon Forsyth, it houses media planners in the Adam & Eve offices, with a buying team billeted at the7stars.
7. The originator of all of this joint venture activity was arguably PHD. In 1997, it created MSc, a strategy planning unit joint venture with Partners BDDH.
8. PHD's Rocket brand was originally a partnership launched in the 90s by PHD and its fellow Omnicom agency Abbott Mead Vickers BBDO. In 2005, Rocket even attempted to launch its own full-service ad agency spin-off, Lunar. It closed in 2009.
What it means for ...
Mainstream media agencies
- The larger media agencies have always argued that this sort of thing never really works. Practical and credible media strategies can only emerge, they suggest, from agencies with first-hand real-world knowledge of the media marketplace - and even an operation with some buying aspirations (such as BMB Media) will never, they add, derive the sort of market intelligence and collaborative firepower that the big boys can offer.
Creative agencies
- Clearly, though, the validity of that viewpoint is not universally acknowledged. Indeed, there are those who believe that, if there's any sign of growth in 2012, we're going to see a phenomenal amount of activity in this space. The notion is that, as media buying becomes increasingly commodity-driven and managed through mechanised trading desks, it will be easier than ever for creative agencies to reinstate the modern equivalent of the media department.
- As Andrew Stephens, a partner at Goodstuff, puts it: "(Some) clients don't have time to manage multiple agency relationships and, in particular, be judge and jury on all their agencies pitching in with their own ideas.
"Because creative and media agencies are hired separately, they have different owners, different business models, different performance targets and, ultimately, vested interests in seeing their work out there, for awards and profile. This creates tension.
"Our view with BMB is simple. Clients want one big idea and for everyone to get behind it and make it famous. That's what we'll help do at BMB Media."