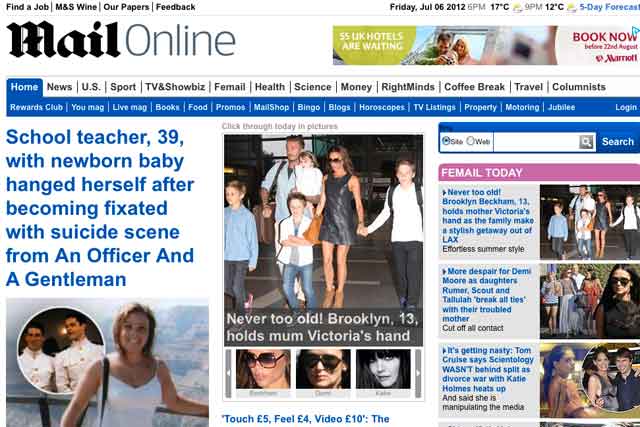 20 April 2012: Media owners with a newspaper heritage have struggled to make sense of the online space. But there's hope when Mail Online, the world's most popular news website, according to comScore, says it's on track to break even this year.
9 May 2012: The Mail Online editor, Martin Clarke, shocks the Leveson inquiry by saying the most devastatingly coherent thing it has heard in weeks - he argues that the inquiry should stop obsessing about the rules of engagement in print media and think a little bit more about the battle to engage news-hungry audiences on the internet. Sites such as Mail Online, he suggests, are the only hope for the newspaper industry.
31 May 2012: But the company showing most determination to develop new forms of online revenue is News International. Now, as part of a marketing initiative linked to the Diamond Jubilee, The Times and The Sunday Times offer limited periods of free access.
21 June 2012: However, growth in the online space isn't just the preserve of the usual newspaper suspects. The latest Audit Bureau of Circulations figures show audiences increasing (almost) right across the board. The figures are particularly encouraging for relative digital laggards such as Mirror Group Digital and Standard.co.uk.
3 July 2012: And, indeed, in the face of this domestic good news, media owners begin struggling to maintain a sense of perspective. Guardian.co.uk had already opened a US office in September 2011. Now, there's speculation that Mail Online is plotting global domination - and is looking to open bureau operations in Toronto, Delhi and Sydney.
Fast forward ...
1 August 2012: But anything Viscount Rothermere and chums can do, the Lebedev family can do too, with Cyrillic knobs on. Arguing that British media companies are failing to exploit opportunities in Eastern Europe, the Independent proprietor, Evgeny Lebedev, announces that Independent.co.uk is to open offices in Gorki Leninskiye in Russia, the Moldovan capital of Chisinau and the tractor-making district of Minsk.