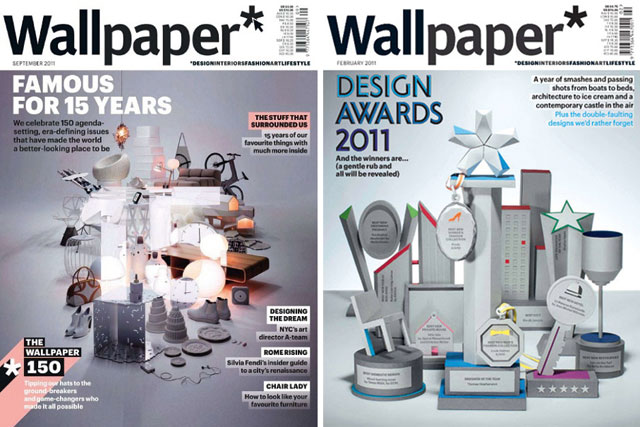 September 1996: The Canadian style journalist Tyler Brule, with backing from Ahead Media and North South Publishing, launches Wallpaper*, a design, travel, lifestyle and cuisine magazine aimed at twentysomething style-conscious men in London and New York. In July 1997, as circulation hits 80,000, he sells a majority stake for £1 million to the US publishing giant Time Inc.
May 2002: Time Inc acquires IPC Media in 2001, and Wallpaper* is subsumed into the mainstream IPC culture. The arrangement is not to the taste of Brule (pictured), and he walks. He is replaced as editorial director by the former Sunday Times Style editor Jeremy Langmead.
November 2006: Weeks after helping Wallpaper* celebrate its tenth anniversary, and with circulation now at 112,871, Langmead announces he's moving on, to edit Esquire. The biggest innovation on Langmead's watch was the launch of a Wallpaper* website and the evolution of the title's asterisk logo to include a cursor arrow. Tony Chambers, the magazine's creative director, is elevated to fill Langmead's shoes.
September 2008: Wallpaper* publishes its biggest issue so far, a door-stopping 428 pages. It's guest-edited by Zaha Hadid, Rei Kawakubo and Louise Bourgeois, and cements a Wallpaper* tradition, begun earlier that year, of appointing "creative geniuses" as guest editors. Others include Jeff Koons, Hedi Slimane, Dieter Rams, Philippe Starck, Karl Lagerfeld and David Lynch.
August 2011: Wallpaper* celebrates its 15th anniversary and 150th issue with its September issue (pictured). The edition features David Beckham, Jamie Oliver and, er, Edward Barber and Jay Osgerby, who have designed some sort of torch thingy for the Hackney Olympics.
Fast forward ...
September 2011: The magazine announces that its October issue is to be edited by Kraftwerk (believed to be a popular music ensemble notable for chart success in the 70s), but the plan is thrown into disarray with the news that Brule has joined the band. In a post-modern move to signal a change in editorial philosophy, the invitation is withdrawn and handed to Beckham and Oliver instead.