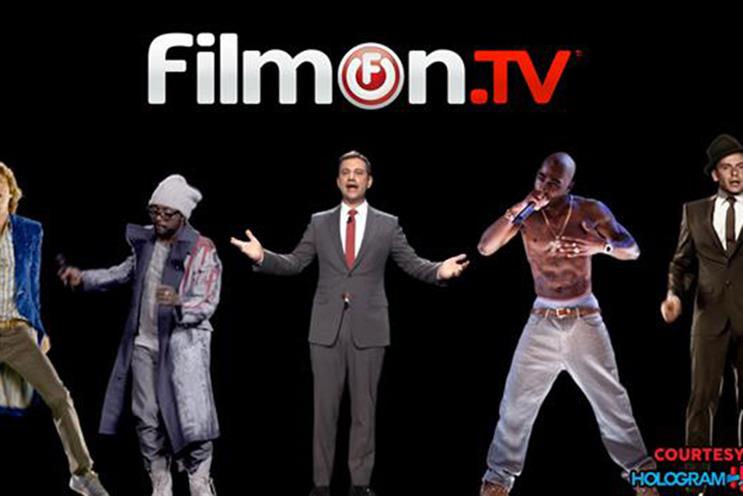 Alki David, the 47-year-old founder of global internet TV provider FilmOn.com, is hosting an event at the Soho Hotel in London on Thursday (10 September) to talk about how hologram technology can be used for content by advertisers.
The technology allows advertisers to create and distribute branded content using holographic images of celebrities. The technology was used at Coachella festival in 2012 to make it appear as thought deceased rapper Tupac Shakur was performing on stage.
David has invited agencies and media-owners to the event, including: Horizon, Havas, Rakuten, Redpill, Digital Broadcast, Improve Digital, BrightRoll, Specific Media, Facebook and Mediacom.
At the event, David will confirm that Hologram USA, a division of FilmOn.com, can provide the hologram equipment and has signed a series of rights deals with the estates of artists like Barry White, Liberace, Sammy Davis Jr, Patsy Cline and rapper Eazy-E. A "major and much anticipated name" will also be announced at the London event.
David said: "Our stable of talent is very impressive and includes both living and departed stars, from Tammy Wynette to Billie Holiday and many more yet to be revealed.
"Our platform encompasses digital distribution on a variety of outlets and social media engineering kick-started by amazing content that we are already producing in-house for major brands in the USA.
"For the first time in history audiences can experience brand integrated shows delivered by their favourite celebrity via jaw-dropping hologram coupled with mass global distribution."
FilmOn.com streams over 700 TV channels online and hosts over 200,000-hours of content that is available on demand. It also broadcasts its own TV station in the UK on Sky Channel 237.