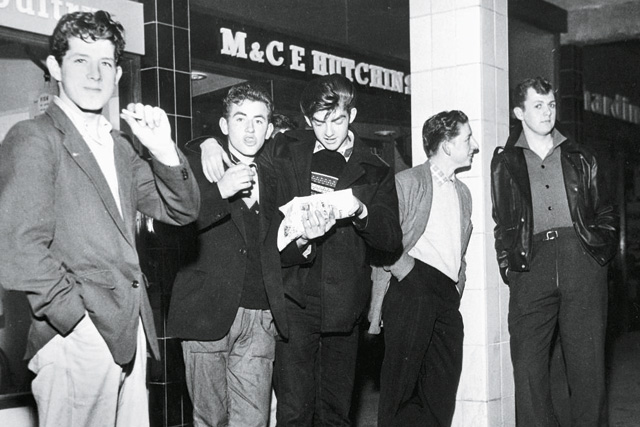 Media research into different audiences may show that consumers now buck trad­itional stereotypes, but we
are in the process of developing a new set of clichés for the digital age, from Silver Surfers to Generations X and Y.
Smooth Radio knows this isn't the case with its listeners. It wants to show how its target audience, in the 40-59 age range, is now thinking and behaving, and how advertisers and brands should take note.
This diversity of behaviour challenges the idea of using demographics to under­stand audiences, so Smooth has looked at the idea that social class, ethnicity, culture and age are no longer important to people in their 40s and 50s when forming social groups and taking part in social activities.
In fact, they, in effect, develop their own individual 'brands' and are plotting a new path through life.
According to the research, conducted for Smooth by Jeni Whittaker from Qualiprojects (qualiprojects.co.uk), it appears that because of a more liberal upbringing, people in their 40s and 50s are more open, curious individuals, as
can be seen in the way they interact with others. The ability to communicate takes precedence over age and/or life stage.
Not only do people mix with all ages, they can be more involved in activities with different generations of their own families.
On the following pages, we look at how the new generation of people in their 40s and 50s are changing, and why; how you might understand them; and how brands and advertisers can make the most of this.
Why the new 40s and 50s are different
Why their parents were different at their age
People now in their 40s and 50s grew up with parents who were teens in the 'teenage rebellion' years – the 1950s and 60s.
Despite the 'rebellions', these parents still grew up in a fairly frugal society, where success came as a result of hard work.
Hobbies were often based on achieving a practical outcome – embroidery, for example.
Flitting between one hobby or group of friends and the next was less common.
The rebels, now in their 60s-80s, wanted to give their own children more freedom.
– 'Women at work' shifted society's structures
– This generation grew up with no direct experience of war.
Financial freedom and the two-person retirement incomes of today's 60s-80s has brought a more positive outlook on 'older' life for their children.
– Former teenage rebels are now enjoying freedom and world travel way into their old age...
How the new 40s and 50s feel
It appears that as a result of this more liberal upbringing, forty-/fiftysomethings are more open, curious individuals, which can be seen in the way in which they interact with others.
– Ability to communicate takes precedence over age and/or life stage.
– More of this generation are single than before.
Forty-/fiftysomethings are generally very open to connecting with younger people.
– Today's teens also have little interest in creating organised rebellion 1950s-80s style, as they already have so much freedom and can express themselves as individuals. Technology helps.
Is the age demographic dead?
The most intriguing research question Smooth has asked about its audience is an exploration into 'Staying young vs embracing age', and the extent to which audiences now in their 40s and 50s are actually socialising with younger people or doing 'younger' things – so that, in effect, there is the possibility that the 'traditional age demographic is dead'.
The research delved into how age transitions are becoming blurred, peer groups are breaking down, people in their 40s and 50s are doing things traditionally done much earlier in life (such as having children) and are socialising with younger people, yet are still willing to embrace their age in certain areas.
How do audiences aged 40-59 spend their time?
A series of elements has brought about a change in the way people perceive age and age landmarks. Boundaries due to age do not exist at all in many social situations and mixed-age groups are frequently found sharing interests, hobbies and social spaces.
Aside from a few more wrinkles and the aches and pains of getting older, it is rare for people in their 40s and 50s to want to be younger again, as they would lose the greater wisdom gained from experience – they tend to agree that 'the best age is right now'.
Life stages are no longer predetermined by age as traditional rituals have passed away, meaning that older men and women often readily connect with many younger age groups on life choices.
The internet
The internet has changed the dynamics of friendship and communication worldwide:
Staying in touch – influenced by friends and acquaintances long-term.
Competition provokes a desire to be interesting and to have interesting hobbies.
Friendships possible with overseas cultures.
Online dating sites encouraging extroversion and the general breaking-down of taboos.
Travel and immigration
Once the sole domain of the well-off, access to and availability of international travel has opened people's eyes to foreign cultures in a whole new way:
This leads to new beliefs on how best to live one's life, as well as exposure to other people affected by culture in the same way, regardless of their age.
Relocation
People nowadays are no longer living out their lives in the same place:
Often they leave home young and establish deep connections outside the family and local community.
They sometimes replace the feeling of 'family' with new friends who have similar values and morals, regardless of age.
Gadgets and technology
Gadgets and technology are connecting different generations more and more:
They enable quicker and easier communication and sharing of ideas.
TV connects people via shows appealing to audiences of all ages; for example, talent shows such as The X Factor unite the generations.
Mobile phones and other gadgets such as iPads, BlackBerrys, iPods and Kindles are largely 'generationless', since as we all have similar 'practical' needs in the modern world.