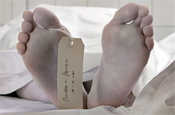 The media agency UM London and sister outdoor specialist IPM has negotiated the media space to back a BBC TV special, hosted by the model Danielle Lloyd.

Dangerous Love, presented by Lloyd and airing on 3 March, will discuss the early warning signs of domestic abuse and her own personal experiences.

UM London has negotiated 1,000 national rail and roadside six-sheet sites with the outdoor media owners JCDecaux, Primesight and Titan.

In addition, the Refuge "early warning signs" campaign will also run in donated space from national newspapers including The Times, The Daily Telegraph and Metro.

Creative, which has been produced in-house, will also run in the women's magazine Company and on websites including Helllo.com.

During the documentary, Lloyd will be shown posting a Refuge poster at a site secured by UM and IPM near Old Street.

Sandra Horley, the chief executive of Refuge, said: "Without the support of UM, IPM and all those who donate their media space, there is no way that we could run these life-saving campaigns."