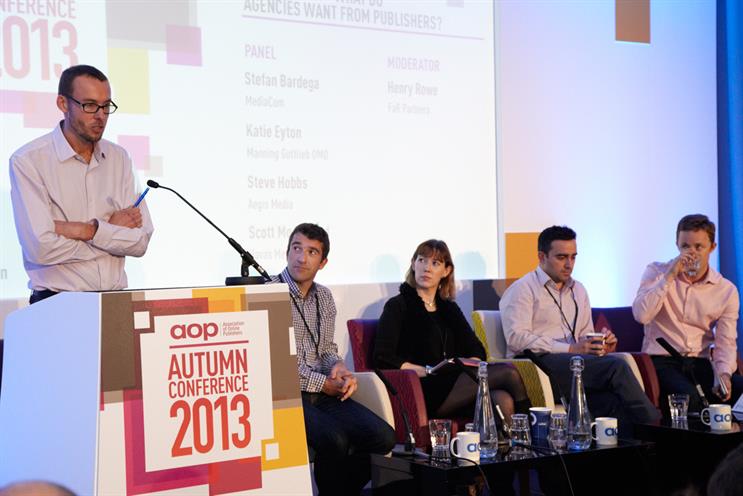 The major theme of last week's annual Association of Online Publishers Autumn Conference was data.
The AOP was represented by Tim Cain, its ebullient head of research and insight, who addressed the creeping influence of data for online publishers and their partner media agencies. He said: "There's a whole new skillset within media owners now, which is about data analysis, database-building and interrogation of analytics – and that's a skillset you'll see turning up more and more within publishing operations.
"At the current time, data is an important part of the business, but not the whole of the business, and I don't think you'll ever change that. Data is great in identifying an audience, but you still have to deliver a message to an audience in a certain way and that requires creativity."
His comments follow this year's census of AOP members, which highlighted concerns that agencies were demanding more first-party data so they can "circumvent" the publishers and target consumers directly. Sixty-five per cent of the representatives of some 1,500 digital brands expect to see an increase in private marketplaces in the next year.
Executives from Media­Com, Havas Media and Manning Gottlieb OMD were among those to call on publishers to stop worrying about protecting data and focus on the possible benefits of sharing.
Stefan Bardega, the managing partner and head of digital at MediaCom, said: "Actually, if you collaborate and work together and the results are good, the client's going to come back."
Scott Moorhead, the head of digital trading and operations at Havas Media, advised publishers to change the conversation from data theft to data value.
Katie Eyton, the executive director and head of operations at MG OMD, declared it was about time the industry stopped holding on to old data and had a clear conversation about how to price fresh premium data.
She said: "I don't think that agencies would be resistant to paying a fair price for data; the issue is that nobody knows what that fair price is as nobody is willing to have those conversations."
Delegates also heard that data was not just leading commercial discussions but editorial ones too. Noel Penzer, the country manager at AOL UK, said: "From an editorial point of view, we use data to make informed decisions about what works and what doesn't work, and what consumers are engaging with and what is driving the traffic, whether it be social or search or something else."
As the event drew to a close, Phil Hilton, the editorial director across the "freemium" titles ShortList and Stylist, reminded guests that "you have to continue to surprise and delight the customer and not just get led around by the data".
Data analytics is presenting new opportunities to build blueprints of online users – a shift noted by Incisive Media's chief executive, Tim Weller: "A few years back, we wouldn't know much more about our customers than an IP address, which is nuts."