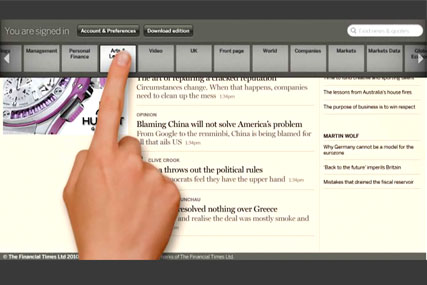 Where were you when you first heard that the web had been assassinated? On 17 August it was pronounced dead on arrival at Gadget City General Hospital, having suffered traumatic head wounds (www.wired.com/magazine/2010/08/ff_webrip/all/1).
There's every indication that the hit was executed by a lone gunman, the Wired editor-in-chief Chris Anderson holed up in a book depository overlooking the processional route. Give no credence whatsoever to the conspiracy theorists who insist there was a crotchety old man called Rupert Murdoch spotted on a grassy knoll just before the motorcade was due to pass.
A sad, sad day, clearly ... but, chin up, there's always a bright side. We could be on the verge of a futuristic new media economy - an economy where people make products that other people are prepared to pay money, real money, to buy.
Not everyone will get this. But it might just help save the bacon of some of those poor fools who insist, despite all the odds, on trying to peddle words and pictures. Because the commercial successor to the free website, we are reliably informed, is the iPad (and other tablet devices) app.
News Corporation's chairman and chief executive, Rupert Murdoch, speaking at a media conference in Australia in August, described the iPad as a "perfect platform for our content". News Corp has launched iPad apps for The Wall Street Journal, The Times and The Australian. Also in August, News Corp hired Greg Clayman, the head of digital distribution at Viacom, to lead development of an iPad-only newspaper.
Conde Nast is a prominent cheerleader, too. The publisher's UK managing director, Nicholas Coleridge, announced last week that Vogue and Wired would be available for the iPad from their December issues. Any advertiser appearing in the print edition will automatically appear in the iPad app. Advertisers can include a link to their website or to any other digital properties; and a limited number will be able to use augmented interactive ad formats. Coleridge recently stated that within 15 years, 30 per cent of readership is likely to come via apps.
In June, Express Group launched iPad editions of the Daily Express and Sunday Express, plus a news feed, ticker and video feed supplied by ITN. Individual editions, pages and videos can be downloaded to view offline.
The Financial Times launched its iPad app in May, offering interactive access to a broad range of FT content, including video, market data, investment portfolios and news and analysis. The app is available for free and follows the FT.com business model, whereby registered users have access to ten free articles a month before having to subscribe.
All of The National Magazine Company's 18 monthly titles are available on the iPad through Zinio. IPC says it might unveil its own plans soon.
The London Evening Standard is developing two iPad apps. One, sponsored by British Airways, allows users to keep up to date with the newspaper's news, business, sport, style and entertainment content. The other replicates ES Magazine as it appears in print and offers enhanced advertising formats, including links to advertiser webpages that can be viewed without leaving the app.
In July, Metro launched an app focusing on news, sport and showbiz content in a "newspaper-like" format.
The Guardian's Eyewitness photography app is produced in association with Canon and showcases the world's best news photography.
Last week, Apple revealed plans to launch an iNewspaper section of its app store for newspapers offering unique digital content. It will exclude newspapers that are free online. However, the relationship between conventional media owners and Apple is not expected to be entirely plain sailing. In April, Juan Senor, the co-author of the Innovations in Magazines 2010 World Report, warned the PPA conference that Apple is out to exploit publishers. The iPad can recreate the reality of the print experience, but this comes with "a velvet shackle", he claimed. Senor admitted that the iPad was a "fascinating and revolutionary product", but insisted that publishers should be wary of Apple's intentions.
What it means for ...
MEDIA OWNERS
- Publishers will be aware of the cautionary note struck at the recent PPA conference - but their optimism will surely outweigh their reserve. Tablet computers provide a wonderful showcase for quality images and layouts - and there is every hope that lucrative media businesses can be built in this environment. That has to be a welcome prospect for a beleaguered sector.
- But it is equally true that print owners cannot afford to be complacent. Various types of aggregator are out to win a slice of this market by mimicking mainstream media formats - the likes of Flipboard, for instance, which takes your Twitter or Facebook profile and turns it into a personalised magazine.
ADVERTISERS
- Advertisers and their agencies are, perhaps surprisingly, even more cautious than media owners. They will want to see some decent numbers before they get too excited. And they will want to understand what is going on here in behavioural terms - for instance, how and where iPad content is consumed.
- Jean-Paul Edwards, the executive head of futures at Manning Gottlieb OMD, says: "The numbers look encouraging. There are apps offering really engaging experiences out there. Now it's down to the planners as to how we get the best out of that. The challenge for media owners, from an advertising point of view, is finding a way to move beyond the print experience. I like the link-up between Canon and The Guardian Eyewitness app. I don't think you'd buy the app just for the pictures, nice though they are. The interesting aspect is the technical stuff about the pictures that Canon provides."