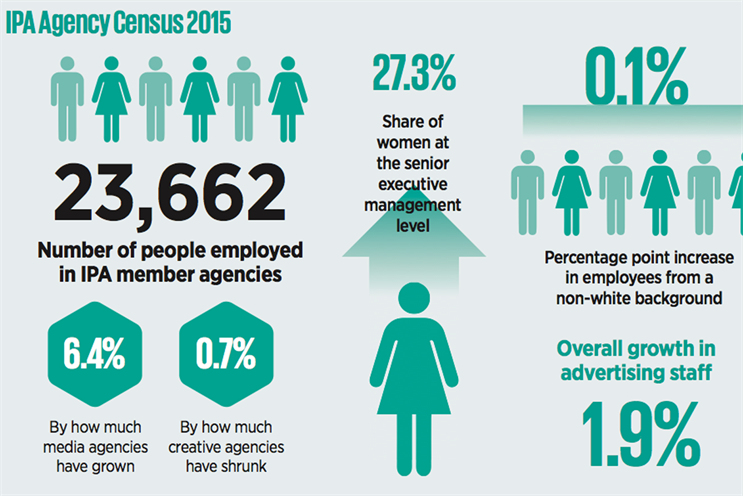 The total number of those employed in the industry was 23,662 in 2015, up from 23,231 in 2014. A driver has been media agency growth, up 6.4 per cent, compared with a 0.7 per cent decline in creative and other non-media agencies.
Over the past decade, the number of people employed in creative agencies has risen by 30 per cent and by 110 per cent at media agencies.
There has been an increase in women in senior positions. Overall, women account for 27.3 per cent of those at the senior executive management level, and 37.6 per cent at other executive management positions. This is up from 25.6 per cent and 37.1 per cent respectively in 2014.
The Campaign/IPA diversity tables found the bigger agencies had a better gender balance at the top (30.5 per cent) but not at the next rank (31.3 per cent).
But there has only been a 0.1 percentage point increase in those from a non-white background. BAME individuals make up 5.5 per cent of the most senior roles at executive management level. At the biggest agencies, this figure is 8 per cent, according to the Campaign/IPA diversity study.
Paul Bainsfair, the IPA's director-general, said: "It is always good to see overall numbers up, driven by media and its ever-increasing remit. While the figures for gender and BAME are also up, they should be better. Greater diversity creates stronger, more successful businesses. This is why Tom Knox's diversity targets are so important."