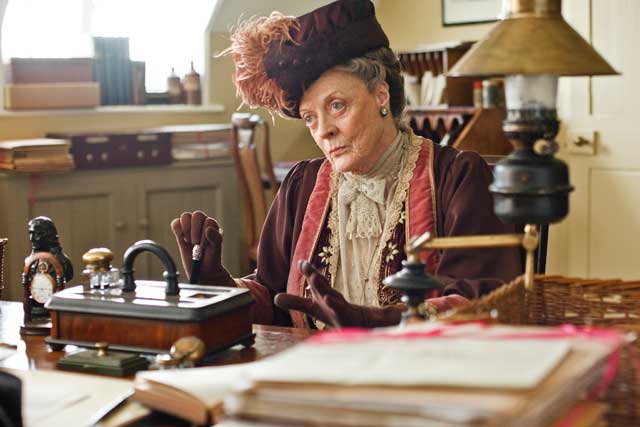 Hark, TV buyers - no longer do you need to rely on printing off reams of Broadcasters' Audience Research Board data before a meeting with a media owner, because Thinkbox has rustled up an iPad app that contains all you'll ever need to know about TV advertising. The app, which is free, will feature 14 useful sections and include the latest consolidated TV viewing data from Barb, the lowdown on emerging TV technologies and advertiser opportunities plus much, much more. Whether you're a creative or a media buyer, make sure this is the app you download this week.
- The return of Downton Abbey
All is right with the world as ITV's Downton Abbey is back to make the dark, wintry Sunday evenings a touch more bearable. This time, the drama feels like it's back to its best after losing its way somewhat in the previous series. The Earl of Grantham discovers he is broke, but that doesn't stop him from bankrolling Lady Mary and Matthew Crawley's wedding, which took place in full splendour in the first episode of the new series on Sunday night. Dame Maggie Smith's Dowager Countess also gets a new sparring partner with the arrival of Shirley MacLaine as Cora's American mother, Martha. The only bugbear is the P&O Cruises idents, which have an unfortunate air of daytime telly about them.
- The silliness of LFW
It's London Fashion Week, people! Oh, it seems you're not that excited. Well, if you have a fashion client that spends big bucks in women's glossies or on TV, this is the week for you to brush up on your fashion parlance - call it the cheat's Tweeting guide to fashion. Just add a few influential magazine editors to your Twitter contacts (Jo Elvin at Glamour or Red's Sam Baker, for example) and absorb their nuggets of know-how. We are already discussing Mulberry's oversized Willow tote and how pirate make-up (courtesy of Vivienne Westwood) is all the rage with absolute confidence.
And one thing we don't ...
- The Sun being holier than thou
Another month, another royal photographed naked scandal. This was the week that The Sun came out to say it will not (certainly not!) publish topless pictures of the Duchess of Cambridge. Why so, you may well ask, given that the newspaper saw it fair game to plaster Prince Harry's bottom on its front page. Well, The Sun issued a statement explaining that, clearly, Harry had no reasonable expectation of privacy (when he was, ahem, in his private suite in a hotel room in Las Vegas). The respectable Kate, however, was in a private place when the photos were taken. The Sun said: "The irony is that it is France - smug, privacy-obsessed France - that published grossly intrusive pictures no decent British paper would touch with a bargepole." Yes, of course, therein lies the irony.