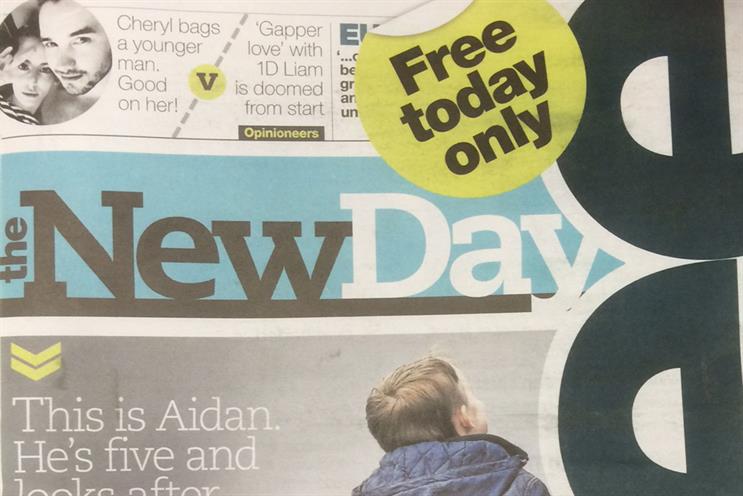 At first glance, I felt I was reading a less edgy version of Grazia meets Good Housekeeping, with a dose of Take A Break.
In other words, The New Day doesn't feel much like a newspaper, although the news print has a thick, quality texture.
There is no news on the front page – only on pages two and three, and that consists of snackable, bite-sized info-chunks in a large, easy-to-read font. (Hello, older readers!)
Most of the paper is full of colourful, personality-led stories such as its cover story, headlined "This is Aidan. He's five and looks after his mum... But who is looking after him?" and "Would YOU help a child being bullied?".
The heart-tugging feature about Aidan and other "infant carers" – children who look after sick or disabled parents – was a fair read, but only about 500 words long, light on facts and didn't suggest meaningful ways to change the status quo.
There was some meat in The New Day. Page nine, called "Today's big question", featured writers Yasmin Alibhai-Brown and Julia Hartley-Brewer offering short, contrasting views about whether Home Secretary Theresa May's snoopers' charter will "make you feel safer".
Then there was David Cameron, writing about the virtues of Britain remaining in the European Union. On the opposite page of the spread, Emma Thurston, a mother of two, was given exactly the same amount of space as the prime minister to raise her doubts under the headline, "Convince me Mr Cameron." It was a shame she didn't appear to have been shown the PM's piece to engage with it.
Sport was relegated to a spread in the middle of the paper where I found it hard to find the football scores and there was no Premier League table despite a weekend of dramatic football action.
Trinity Mirror, the publisher, has aimed The New Day so heavily at women that I am not sure many men will bother. But that appears to be the idea.
Another feature – copied from many papers – was a centre spread double-page photo. The image was of the UK at nighttime, taken from space by astronaut Tim Peake, and provided a nice line about Britain "waking up to a bright New Day" but experience suggests that the paper will have a hard time coming up with compelling photos on a daily basis.
Other features may have been obligatory but were hardly original: crosswords, Sudoku and a page discussing the latest celebrity romance between Cheryl Fernandez-Versini and One Direction's Liam Payne who is a decade younger than her.
Yet Trinity Mirror may be right that this is what older women want from a print newspaper, when they can get their news on a smartphone and from the web.
There was little advertising – about five-and-a-half pages out of 40. BT and French Connection took out a full page each. Thierry Mugler perfume, Aldi, Boots, Vauxhall, O2 and Debenhams took out a half-page or less each.
Trinity Mirror has said it doesn't want to rely on advertising and, like i, The New Day will depend on a cover price.
I found my free copy of The New Day buried out of sight under The Irish Times in my local supermarket – hardly a good omen. But then again, it will cost 25p from tomorrow (and 50p in a fortnight's time), when retailers will have an incentive to sell it.
At the newsagent around the corner, the shopkeeper had a pile of copies of The New Day on the counter. He remains a fan of print but had just been told by his computer that connects with the news trade that he won't be receiving copies of The Independent in future, even though the paper won't stop printing until the Easter.
Will The New Day sell? "Let's see tomorrow," he said.
I am doubtful it will sell when it competes with free titles such as Metro. But if The New Day succeeds, it will be because, as i has shown, readers want a quick, curated experience that offers less, not more.