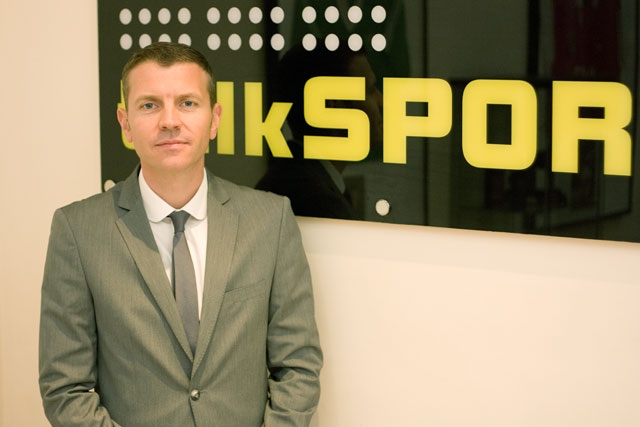 Monday
I'm woken at the ungodly hour of 4am by my two girls, who are eager to get back to school after half term. Not sure what that says about my parenting skills. Brave the packed Richmond to Waterloo train to make my 8am catch-up with UTV Pitch sales director Matt Wilson. Then we kick off the week with a full commercial team meeting. All are on buoyant form as we've had a good start to the year.
I then have the misfortune of having to prepare a board report before the senior executives meeting, chaired by my boss Scott Taunton, chief executive officer of UTV GB. The highlight within an otherwise dry operational schedule is TalkSport programme director Moz Dee's enthusiasm. He's all fired up about our exclusive Manchester United versus Liverpool game that weekend.
After a week off, things have accumulated, so I spend time playing catch-up with clients. I join Howard Bareham, head of radio investment at Mindshare, for a coffee. Since UTV acquired Sport magazine in 2009, as many of my agency round robins are spent with investment and press directors, as with heads of radio.
Nothing glamorous to attend tonight, so I head home to get my head down nice and early.
Tuesday
An exciting morning focused on digital. I join Ben Martin and Matt Davis, our heads of digital and digital development respectively, for a four-hour future planning session. We've just appointed TigerSpike to expand digital applications across our brands – our TalkSport iPhone app, launched last April, is currently one of the most popular radio listening apps. Looking into Q2, I foresee two or three major new product launches. As well as building on the relaunched talksport.co.uk, we'll embrace a tablet strategy for Sport.
Next up, a lively debate on people development with the six heads of department across Sport and TalkSport. Sport magazine sales director Iain Duffy can, as usual, be relied on for a few laughs. His somewhat black and white approach to issues, including the merits of people and culture plans, illuminates proceedings.
At lunchtime, I seize the chance for a quick run along the Thames. As our offices are located right on the riverside, the runners among us often jog together.
The fresh air steels me for an afternoon of dull but necessary admin, before leaving early to meet my dad at Stamford Bridge to see Chelsea smash Manchester United. I go home a happy man.
Wednesday
TalkSport has landed the official rights to the New Zealand Rugby World Cup next September, and this morning is centred on planning and logistics for the event. Head of strategy Laura Wade and head of creative solutions Anthony Hogg are firing on all cylinders today. We're close to signing two major sponsors, and it's now a case of working out logistics. This is a huge operational piece, not least of all because of the time difference and distance involved.
With such creative energy in the room, we transgress from the Rugby World Cup into the Olympics and Euro 2012 – these comprise our three huge priorities over the next twelve months. We're excited, but nervous. Come summertime, we'll be expanding our commercial remits and bringing on more resource to cope. We already have a strong rights model in place, but there's a lot of work to do yet.
At lunchtime, I drop into the boardroom to see the Ford client team. We've worked together for over seven years, and now Ford's brand manager Duvall Hunter is moving on within the company, so I wish him well.
I round off the day with a call to Adam Perrin, head of brand at Paddy Power, regarding the Cheltenham Festival. We have a lot of fun taking clients to Cheltenham, but as with everything in this job, it's about getting the balance of work and play just right.
Come 6pm, I dash home as my wife, Caroline, has an architect coming around to discuss our extension plans. No rest for the wicked.
Thursday
Straight into my weekly breakfast meeting with Simon Caney, editor of Sport. We review the Olympics special issue just gone, and discuss impending covers and our blueprint for the next six weeks. The title has been in great shape since the acquisition and I have few concerns.
Next up, I meet Les Welch, owner and creative director of our creative agency Lion House, to chat about our ongoing FA Premier League work. We're also building momentum for the Rugby World Cup with executions across television, 48-sheets, national press and digital.
A quick dash across town with our two new hires from Sky, ex-footballers Richard Keys and Andy Gray, to catch a flight from Heathrow to Belfast, where our Irish counterparts are launching a new UTV advertising schedule with a dinner event. Group chief executive John McCann is our host for the night, while Keys and Gray give a Q&A about their move from TV to radio.
We're booked into Belfast's spectacular Merchant Hotel, but dinner plays out into the early hours and we don't see much of our rooms.
Friday
I'm rudely awakened in time to leg it to Belfast airport to catch our return flight to Heathrow. We just make it. I spend much of the morning recovering in transit, in order to be fresh for a meeting with Jo Manning Cooper, who runs PR at Locog, the body organising the Olympics. We're working hard to cultivate a strong relationship ahead of 2012, and discuss both our recent Olympics issue of Sport and planned future coverage.
I struggle through to the end of the working day, squeezing in a swift hair of the dog at Waterloo Station, before heading home for a much-needed restful evening of Peppa Pig and pizza.
Weekend
Largely spent consuming sports, and to some extent actively taking part. Does taking my two girls to ballet and modern dance classes count? I would say that I live and breathe sport – it's a brilliant subject matter for a career, and as a keen fan, I consume a lot of it outside of work.
Fortunately, Caroline is a keen golfer and shares my passion, although less so for football.