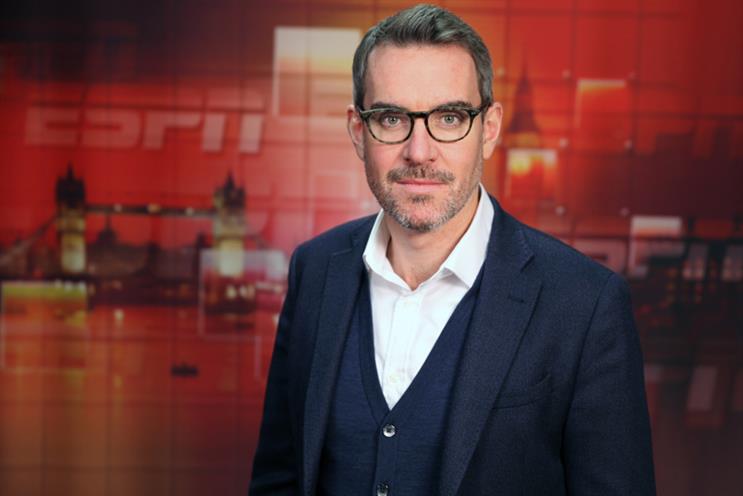 Monday
After a weekend of driving my kids to absolutely everything and everywhere within a 100-mile radius I look forward to getting stuck into the week.
Most Mondays are consumed by internal meetings with sales, editorial and product teams. This Monday is no different.
It starts with ESPN's department head meeting. We are setting the company priorities for the year. The speed of change in the sports space is extremely quick. We enjoy a loyal, dedicated fan base, but we need to keep innovating to stay ahead of the curve. The need to focus on providing quality content and a quality product feels more important than ever.
I head to a Disney meeting where the focus is on our studio business and the commercial opportunities that lie within. It's great to hear about the new movie releases that will hit cinemas within the next 18 months. We have Thor: Ragnarok and Star Wars: The Last Jedi in the next three months alone. Our ability to work with commercial partners with our intellectual property is one area that really sets us apart.
In the evening, I make my way to Stamford Bridge for the start of Leaders in Sport week. ESPN is sponsoring a panel session focused on Women in Sport, moderated by our very own Alison Bender. Glad that I went, it was a great session.
I bump into Owen Hughes, global head of sponsorship and brand at Nissan. We discuss the increased commercial interest in the ladies game, Disney's new grass-roots focused partnership with the FA, and the ways in which we can build on the strong partnership we have with them in numerous regions across the world.
Tuesday
An early rise to catch a plane to Amsterdam for a meeting with the global head of media at a leading travel booking site.
It's fascinating to hear about their data-led marketing approach and to explore the ways in which we may be able to marry content with data to improve performance.
I manage to make it back for football, with 22 men of varying degrees of mediocrity (sorry lads). I play like an idiot. I go home annoyed and think about early retirement. I'll be there next week.
Wednesday
The day starts with a meeting with Matt Landeman, managing director of Carat. We have brought all of our media assets under one roof – Disney, Maker Studios and ESPN – rebranding as Disney Media Sales and Partnerships. Our ability to package the best of our media properties is, I am pleased to say, being very well received.
We talk about how we can both benefit from our new approach and agree to get some of our best people involved to explore what we might be able to do together. His energy and enthusiasm is infectious. I look forward to working with him and his team.
From there I travel to Starcom to meet with Karl Newman, head of partnerships. We discuss digital, programmatic and the rapid decline in direct buys. I am interested, and encouraged, to hear that he is seeing a significant increase in the volume of partnership briefs and further encouraged by his thoughts on the Disney Media Sales and Partnerships approach.
In the afternoon, I return to Stamford Bridge and the Leaders in Sport conference. One of the highlights is a session from Michael Eisner, ex-CEO of Disney. He talks about the unique position that live sports have in a fragmented world and how great content and powerful storytelling will always be a recipe for success.
I phone my beautiful wife to tell her that I will get home in time to put the kids to bed. I anticipate a scene out of the Waltons. It turns out to be more like The Shining.
Thursday
I have a breakfast meeting with the wonderful Pippa Glucklich, outgoing UK chief executive of Starcom. It's been a while, and, as always, it is a pleasure to catch up with Pippa. She offers some very useful insight into how we should build awareness and interest within the agency around our new media offering.
I head back to Disney for a meeting with Danny Spronz, Disney's head of talent management. Danny joined us when we acquired the Maker Studios business. We discuss the integration of Maker and our influencer strategy for commercial partnerships. This business has changed immeasurably in the last six months. I am excited about the ways in which this acquisition broadens our media offering and about the talent that we are integrating into the sales teams.
At the end of the day I have a meeting with Emma Scott, CEO of Beano. We discuss their strategy to reach kids away from the magazine and how we are investing more in our multi-platform offering to cater for the next generation of fans. This excites me as I subscribed to Beano as a kid, all the way into my teens.
Its Scotland v Slovakia this evening. A must win match. I have seen more solar eclipses than Scotland wins. We won't win, I know we won't win, but I would love it if we did. I would absolutely love that.
Friday
We won!
I am off to Dentsu Aegis Network at Triton Street to meet with the new head of The Story Lab, Alex Gardner. We discuss the new proposition and how we may be able to work together. We agree to focus on a couple of immediate opportunities that could be interesting. I like his approach.
I head back to Disney for a meeting with Mark Endemano, GM of Disney Media Distribution in EMEA.
We talk about the fragmentation of audiences, our strategy to reach fans across all platforms and technologies and Disney's acquisition of a world class OTT video platform, BamTech - major investment from the company and a glimpse of what the future may hold.
I spend most Friday afternoons wading through emails (how the industry has changed!) before heading home for a glass of something nice.
On arrival, I am told that I need to take my kids to ballet/football/cricket/sword fencing.
Another weekend of driving everywhere and to everything that lies ahead.
Lowdown
Age: young at heart
Favourite media: my mobile phone
My biggest inspiration: Chewbacca
Dream job: Set designer on a Star Wars movie
Not a lot of people know this about me...I am scared of elastic bands…and don't understand why everyone isn't