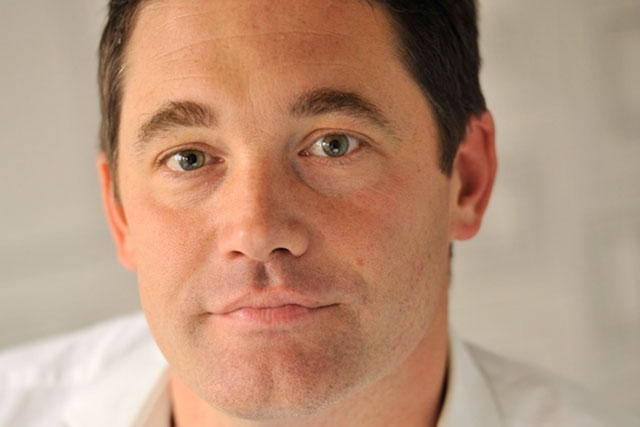 Monday
Wake up. Check diary. Deep breaths. Four new business and several existing client projects compressed into just three or four days. This feature is definitely not going to be about my amazing social/work life.
My working week actually started yesterday. Having been racing at Cheltenham with Paddy Power on Friday, Sunday was spent playing catch-up. Responses to emails from clients and colleagues, such as Dan Clays at OMD, suggest I am not the only one. 'Homeland' gets recorded.
The journey in is spent reading briefs and sending emails, as opposed to the usual breakfast of The Telegraph, Guardian and Twitter on the iPad. As I walk to the Bakerloo Line at Charing Cross, I am pleased to see decent sites for forthcoming Momentum Pictures release 'Seven Psychopaths' (in cinemas 7 December).
Get to the office at 7.30am (rare). Morning of back-to-back meetings with M2M teams to discuss pitch briefs, our response, and how to share the workload across the management team, before a "chemistry" meeting with prospective client. We tend to focus on growth opportunities we have the passion and the people for, so we always feel confident at this stage. Clients are enthusiastic and engaging and the meeting seems to go well.
Mug of tea later with Jon O'Donnell from the London Evening Standard and Independent, someone I first met amid the chaos of early 1990s Manchester club scene. We talk at length about the future of his brands and newspapers, and I congratulate him on turning a profit at the Standard, in the hope that he'll forget to mention the weekend's North London derby. It doesn't work
Another pitch process lands us with a brief with an end-of-play deadline. Non-negotiable. Never ceases to amaze me what our people are capable of doing in these situations, as the team meets the deadline and even manages to over-deliver on client expectations.
By the time I get home, everyone is asleep. I start to write a presentation for a retail pitch on Thursday. 'The Killing III' will have to wait. As will 'Homeland'.
Tuesday
Another early start, but I catch up on news and social stuff on the way in. I also pick up Time Out on the Tube. I never got around to buying it, so it's good to get it in hand.

All meetings and a lunch with M2M's founder Peter Thomson get cancelled, due to workloads. Good for business, not necessarily for this feature. Creative agency comes over to share their progress for Thursday. Realise just how much is left to do.
My wife is chemotherapy buddy to one of our closest friends this week and is staying away overnight. I have to leave another pitch ideas session early to get home to look after my children, Freya and George. They get fed, washed, read to and then bribed with pancakes for breakfast if they go to sleep quickly.
Miraculously, they collaborate, which means I can get back to work, which I do with one eye on the football till very late. Then I watch 'Homeland', which I regret five hours later.
Wednesday
Up at 6am. Get kids washed, dressed, fed (pancakes – they never forget promises) and in a taxi to be dropped at a friend's house before school, so that I can get to a meeting on the other side of London by 9.30am to present a UK market update to another new business prospect.
On the train back to Paddington, I check on the status of tomorrow's pitch work before going over to the creative agency for a rehearsal. It feels like they still have a lot to do, but they are happy with our part. Then it's on to Grosvenor Street for monthly status meeting with Chris Good, managing director of Estee Lauder Companies. They were our founding client back in 2003 and we are therefore much focused on evolving structures to meet their needs, which we discuss at length.
Quick call home to find out how chemo session went and to apologise for being out until Friday, then it's on to the Campaign Media Awards. Having judged the media owner categories I'm a guest of Haymarket. Pleased to see so many friends of M2M at places like Global, PHD, CBS and Goodstuff get recognition, but despite my wearing Paddy Power Lucky Pants, our shortlisted entry for Hewlett Packard doesn't win.

Awards after-parties are only fun if you have won or are single, so I grab an early cab home with the d'Amatos - Ella (managing director of Drum) and Sam (M2M managing partner). Sam reminds me that few of the agencies that won tonight have had the growth or success we have in the last 12 months, and we start to plot how to win more next year.
Thursday
Pitch day. South East Railways are doing their best to make me late and attacks on Spurs fans in Rome are distracting. However, the moment I get to the client's office, it becomes apparent that the creative agency has produced brilliant work and that we have a very coherent and integrated story. Energy in the presentation is fantastic and we all leave feeling very positive.
My PA Aisha collars me on my return. Having grown significantly to 75 people over the last year, we now have significant space issues, and she wants to know where everyone will sit come January. I don't have the answer yet.
Catch up on internal conversations and some people-development plans in the afternoon. Then it's time for a quick drink after work with old school mates. A good hour is spent laughing at my shoes for some reason.
Dinner is with Alex Bilmes, editor of Esquire, plus some of their sales team and contributors (including Tom Parker Bowles). Private dining room, Argentinean beef and wine, and a chat with Jimmy Savile's biographer make for an entertaining evening. I get home late.
Friday
Tired. We are 10 next year and are subsidising an agency ski trip as part of our celebrations. I start the day agreeing the itinerary and our agency contribution with organisers Allie and Grace.
Lunch is at Café Caldesi with Paul Gidley and Anna Tracey at Branient to discuss opportunities for M2M clients. Fascinating business and they do good lunch.

Later we announce promotions for some of our emerging talent – one of the best parts of my job. Get a message from pitch intermediary to say we are through to next stage after Monday's chemistry. That and the arrival of the beer trolley is a good end to the week. Time to look forward to a weekend of family, cooking, 'Forbrydelsen' (the original Danish crime drama which spawned 'The Killing') and football (Spurs vs West Ham).