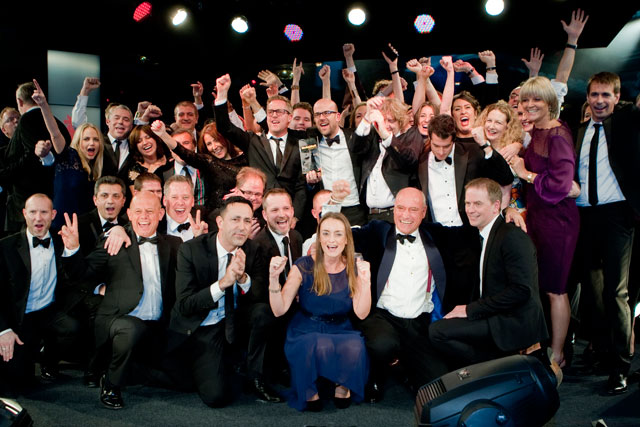 The battle for Media Agency of the Year features Omnicom agencies M2M, Manning Gottlieb OMD and PHD as well as WPP's Maxus and MEC and the largest independent shop the7stars.

This year's hotly contested Sales Team of the year pits BSkyB against Guardian News & Media, ITV, JCDecaux, Twitter and Weve.

Those vying for Media Brand of the Year in 2014 include the London Evening Standard and Independent's ESI Media, Global Radio, Guardian News & Media, Twitter and Weve.

Elsewhere, entries from Channel 5, Digital Cinema Media, Facebook and Gravity Road, are also in the mix.

The first stage of the judging process involved more than 100 judges – view here http://www.mediaweekawards.co.uk/judges.

Arif Durrani, editor of Media Week, said: "Due to an unprecedented number of entries, the first round of this year's Media Week Awards judging process has been brutal. Nearly half of those who entered did not progress through to the next round, so many congratulations to everyone who did make it on to shortlists this year.

"I do feel for those of you left feeling cheated. I hope there is some solace in knowing we've never had a year where the competition has been so fierce. The standard of entries has also notably moved on, with the most succinct and persuasive entries becoming something like art forms in themselves."
The co-chairs of this year's awards are Claudine Collins, managing director of MediaCom, and Bruce Daisley, managing director of Twitter UK.
The Media Week Awards 2014 will be held on 23 October at the Grosvenor House. To book tables on the night visit http://www.mediaweekawards.co.uk/awards-night
Best Use of Data for Audience Buying
Carat UK for Driving Economic Growth Through Effective Retargeting
Channel 4 Television for Getting advertisers on target in world first
Facebook UK for From high finance to high tech
Guardian News & Media for Guardian Response +
Infectious Media for Full funnel real-time advertising campaign
MediaCom for Decca - Strictly Targeting BBC Viewers
Data Innovation
Guardian News and Media for Audiences Not Platforms
JCDecaux for Bringing Ad-Serving to Outdoor
MEC for Project Black
MediaCom for Second Screen Planner
Posterscope for Big Data Partnership - Posterscope and EE
Econometrics
MEC for Modelling the brand/price equation in Credit Cards, MBNA
PHD for Christmas in a Day, Sainsbury's
Radio Advertising Bureau for Radio: the ROI Multiplier
Starcom MediaVest Group for Samsung POEM Social, Samsung
Twitter UK for Telco Research
International Campaign
Carat UK for Kellogg's - The Quest for the Chocovore Idol
M2M for HTC One - #bestgotbetter
MediaCom for RBS SmartMatch
PHD for Canon - Taking it off Auto
ZenithOptimedia for Lexus is an amazing launch
Large Collaboration (budget over £250K)
Arena for It's Time! To Face! The Teamwork! with Domino's Pizza Group
Channel 5 for Littlewoods, The Great Christmas Toy Giveaway with Littlewoods
Gravity Road for The Perfect Partnership Recipe: Jamie Oliver + Bacardi Global + Gravity Road with Bacardi Global Brands
M2M for Ball of Shame with Paddy Power
Manning Gottlieb OMD for Using Powerful Partners to Launch the PS4 and win back Playstation's Gaming Crown with PlayStation UK
MediaCom, Channel 4 and M4C for Home Office and Hollyoaks - This is Abuse with Home Office
PHD for The Lego Movie Ad Break with Warner Bros.
Media Agency of the Year
M2M
Manning Gottlieb OMD
Maxus Communications
MEC
PHD
the7stars
Media Brand of the Year
London Evening Standard, ESI Media
LBC - Leading Britain's Conversation
Guardian News & Media
Twitter
Weve
Media Creativity
Channel 4 and MediaCom for The Home Office - Most media ideas sell things... this one transforms lives
Gravity Road and PHD for Cadbury's - Lip syncing James Corden, Synced to the brits
M2M for Paddy Power - Rainbow Laces
MediaCom for Universal Music - Sam Smith,
PHD for Warner Bros - The Lego Movie Ad Break
Media Idea Launch
Havas Media for East Coast Trains - Feet at home stand out by stealth
Manning Gottlieb OMD for PlayStation UK - 5 Game Changing Moments to win back Gamers
MediaCom for Universal Music - Sam Smith
MediaCom for Sony Xperia Z1 Compact - Sony Xperia and Shortlist - The First Magazine Created on a Mobile Phone
PHD for Warner Bros. - The Lego Movie Ad Break,
Vizeum UK for MINI celebrates its 'NOT NORMAL' drivers


Media Idea Launch – Media Owner
Digital Cinema Media for BMW Ultimate Driver cinime Campaign
Facebook for Ford - Digital drive led to real-world results
Global for 20th Century Fox - X-Men FM
Guardian News & Media for Unilever - The Live Better Challenge
ITV for Proud to Present... John Lewis
ITV for Polydor Universal - Gary Barlow Meets the Meerkats
Media Idea: Large - agency
Manning Gottlieb OMD for John Lewis - How media created the world of the bear and the hare
Manning Gottlieb OMD for Specsavers - Turning one percent into £160m
MediaCom for Home Office and Hollyoaks - This is Abuse
PHD for Sainsbury's - Boredom Busters
Starcom MediaVest Group for Bulmers - #beginwithabulmers,
Media Idea: Large - owner
Guardian News & Media for Unilever - The Live Better Challenge
ITV for Iceland in the Jungle
ITV for Proud to Present... John Lewis
News UK & Ireland Ireland for Here come 22million FREE Suns. Extra! Extra! editions... read all about it! with Sky, Coca-Cola, Mars, Aldi, BT and Domino's
Twitter for Adidas - #allin
Media Idea: Medium - agency
Maxus Communications for Barclays - Lifeskills
MEC for Everything Everywhere - Guardian Witness - Powered by EE
MediaCom for Lucozade Sport: World Cup Conditions Zone
MediaCom for Volkswagen Golf GTI Play The Road
PHD for The Lego Movie Ad Break with Warner Bros.
ZenithOptimedia for O2 GOTHINKBIG
Media Idea: Medium - owner
Channel 4 for The Home Office - Most media ideas sell things... this one transforms lives
Channel 4 for Sony PlayStation 44 - Cracking the Code with Channel 4 and PS4
ESI Media for Get Reading with NOOK
Global for Bulmers - #beginwithabulmers
ITV for Gary Barlow Meets the Meerkats
ITV for Barclays Life Skills and News At Ten
Media Idea: Small - agency
M2M for Paddy Power - Rainbow Laces
Manning Gottlieb OMD for Specsavers - #Youdunnit
MediaCom for Universal Music - Sam Smith
MediaCom for Cancer Research UK - CRUK #nomakeupselfie
OMD UK for Pepsi Max Unbelievable with PepsiCo
Media Idea: Small - owner
Clear Channel UK for British Airways - Magic of Flying
Global for Canon - Canon X-hibition
Global for X-Men FM - with 20th Century Fox
Twitter UK for Nokia iSPY
Twitter UK for SKY - watch on Sky
Media Idea Re-launch
Initiative for Love Every Mouthful
MediaCom for Home Office and Hollyoaks - This is Abuse
OMD UK for McFlurry Music Mix Up
PHD for Let's Get Physical
Rocket for Football Manager
the7stars for The Bearded Dragon
Media Innovation
BSkyB for Sky Media - Sky AdSmart
Clear Channel UK for British Airways - Magic of Flying
MediaCom for Cancer Research UK - Cancer Research Genes in Space
MediaCom for Cancer Research UK - CRUK #nomakeupselfie
OMD UK for PepsiCo - Pepsi Max Unbelievable
PHD for Warner Bros - The Lego Movie Ad Break
Research Insight
M2M for Amazon Instant Video - From 'last click to first step'
MEC for Health Conversations in Social Media
PHD for Putting The Human Touch Back Into Media Planning
Twitter for AEGIS Research - Unconscious Cues
Vizeum UK and iProspect for IKEA - Answering one of advertising's 'holy grails': How to turn social engagement into in-store sales
Rising Star - Agency
Danny Hopwood, VivaKi
James Bailey, Maxus Communications
Emma Callaghan, PHD
Benjamin Cooper, OMD UK
Sam Fenton-Elstone, iCrossing
Sam Wade, Maxus Communications
Rising Star - Media Owner
Roxanne Harley , Cinema Media
Luke Hood, AEI Media Ltd
Alexandra Sellwood, The Walt Disney Company
Kloe Wells, Digital Cinema Media
Adam Bulleid, IPC Media
Sales Team of the Year
BSkyB
Guardian News & Media
ITV
JCDecaux
Twitter
Weve
Small Collaboration (budget under £250k)
Channel 5 for Yorkshire Tea: The Great Cricket Tea Challenge
MEC for EE - Guardian Witness - Powered by EE
MediaCom for Universal Music - Sam Smith
OMD UK for Citroen - Driven by Beauty
PHD for Canon - Let's Get Physical
Vizeum UK for 20th Century Fox - Transforming X-Men into X-Men FM