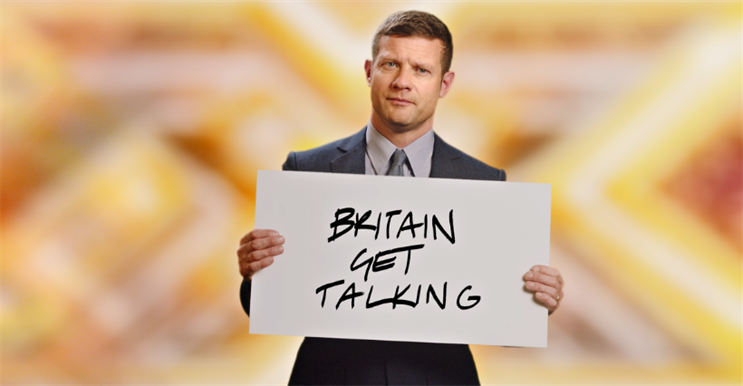 GOLD 
Goodstuff
ITV
ITV Britain Get Talking
ITV wanted to explore ways to improve mental health. Its research showed that connecting with other people was one way to achieve this but it also highlighted that while families in
the UK are increasingly spending their time physically together, they appear disconnected and distracted.
Instead of viewers listening to programmes, ITV's campaign encouraged viewers to do the talking, and more importantly, to talk to each other. During the final of Britain's Got Talent, and to coincide with World Mental Health Day, presenters Ant and Dec paused the show for a minute of silence, asking people to reconnect with their family instead, going from Britain's Got Talent to Britain Get Talking.
This was followed by the UK's first silent ad break, with five different brands promoting the message with their own specially created silent ads.
A number of celebrities also invited people to tune back into their friends and family, while some ITV shows also hit pause so viewers could focus on their own stories instead. Activity was underpinned with a new website supported by Mind and YoungMinds.
The campaign led to millions of conversations between children, family and friends and was recognised widely across social media and traditional press.

SILVER 
Goodstuff
Ecover
Laundry Against Landfill
A whopping 1,000 items of clothing are sent to landfill every 30 seconds in the UK, according to Wrap UK. Ecover, which had recently launched Bio Laundry, a product which specifically removes bobbling and revives colours in fabrics to prevent more clothes from becoming landfill, wanted to highlight how people could preserve their clothes for longer.
Its "Laundry Against Landfill" campaign aimed to educate people about the impact of wasteful wearing. Spots featuring Professor Green and Dawn O'Porter focused on the stories behind
their favourite clothes, why preserving them mattered and the value of buying second hand.
BRONZE
Zenith
Essity
From Humiliation to High Fashion
Incontinence is traditionally a taboo subject and one that is tackled discreetly. Essity, which owns incontinence brand Tena, launched Silhouette, a new range of black incontinence underwear, in 2019.
To promote the product, and make incontinence less of an embarrassing topic, the campaign was displayed around Oxford Street. Instead of seeing stick-thin models in luxury clothes, shoppers saw real, 40-something women wearing Tena Silhouette, challenging their ideas about femininity and living with incontinence. Activity was amplified nationwide across out-of-home and social.
There was a huge increase in sample requests and the campaign attracted substantial press coverage.
FINALISTS
Carat UK: Launching the new Samsung S20 by hiding them in people's living rooms, Vodafone
Manning Gottlieb OMD: #ExcitableEdgar, John Lewis & Partners and Waitrose & Partners
PHD Manchester: Concrete Green with Loyle Carner, Timberland