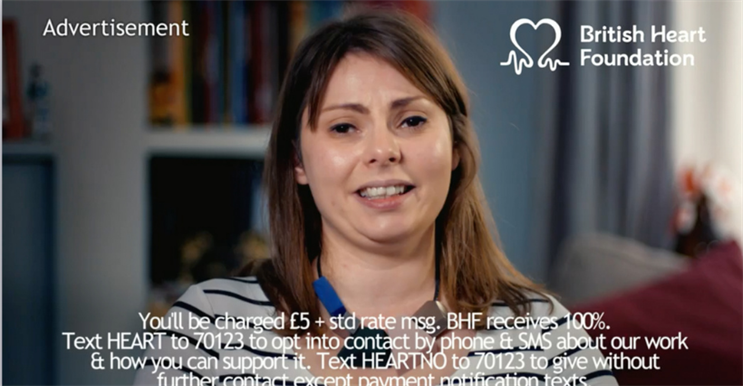 GOLD
PHD
British Heart Foundation
24 Hours in A&E: Heart Special
Judges described this winning campaign as 'powerful, emotive, effective and important'. Heart disease is the UK's biggest killer but the total amount spent researching cures and treatments is less than half the amount invested in researching cancer.
Charity British Heart Foundation funds research into treatments and cures for a range of life-threatening conditions but this support is entirely dependent on public donations.
Its 2020 campaign focused on raising awareness of heart disease, the need for funds and to encourage people to give more. BHF created a one-off episode, called Heart Special for the popular Channel 4 series 24 Hours in A&E, following three individuals with serious heart and circulatory conditions.
This show was promoted through Channel 4 PR and paid social from BHF and Channel 4. Bespoke contextual ads were also created during the show's airtime; these featured the loved ones of patients whose story had been told in the preceding part of the show, underscoring the link between the story and the BHF's work.
Two million viewers tuned in and 86% increased their awareness of the importance of BHF research on A&E treatments. There was a substantial increase in BHF text donations on the night the show aired, compared to the amount the charity typically receives from an entire month of TV fundraising activity.
SILVER 
Manning Gottlieb OMD
Sony Pictures
Jumanji: Next Level
Jumanji: The Next Level, was released in 2019 but had to compete with other blockbuster movie releases. To build audience numbers, Sony Pictures' target age range was 16-34 year olds - those who are more likely to see a film as soon as it is released, but who are also harder to please.
Sony Pictures partnered with ITV's reality television show, I'm a Celebrity, Get me Out of Here, watched by a substantial share of the target audience. The movie's stars, Dwayne "The Rock" Johnson and Kevin Hart, appeared in the show's 'Dingo Dollar' challenge via a video link played on an old television. Campmates had to complete three themed Jumanji levels to win the game.
BRONZE 
MediaCom UK
Lloyds Banking Group
Crossword Clues
Lloyds Bank wanted to encourage its older customer base to use its banking app. Insight revealed that his audience enjoyed solving crossword clues and spending time working out puzzles.
It partnered with The Daily Telegraph to create ten different crossword-style ads, with each answer showcasing one of the app's features. The newspaper not only provided the contextual environment, their editorial team also wrote the clues for the advertising space.
The campaign resulted in 56% visiting the Lloyds Bank website and 51% learning more about the app's features, while 44% downloaded or used the app.
FINALISTS
Carat UK: The Official Sponsor of Belief, Diageo | Guinness
Goodstuff: Sunday Night Sleep, Eve Sleep
OMD UK: Barclaycard Travel smart easyJet Partnership, Barclaycard
OMD UK: Frontline Spotify for Dogs, Boehringer Ingelheim