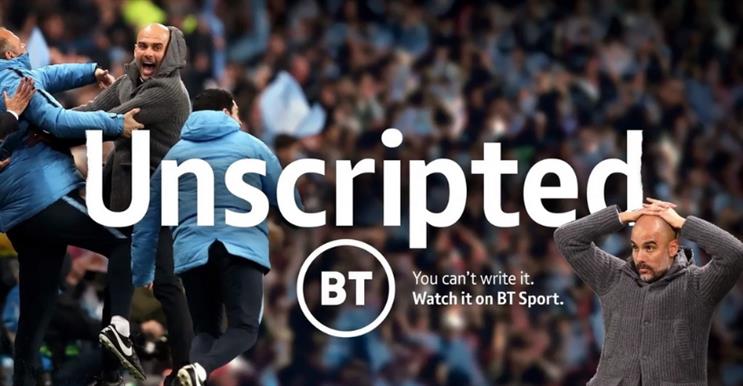 GOLD 
Essence
BT Sport
Unscripted
BT Sport wanted to ensure it was centre stage at the start of the football season and inspire the football community to talk about nothing other than BT Sport's new season. It took a scientific approach for its campaign, gathering the biggest minds in data - Google Cloud, Opta and Squawka to write the 'script' for the entire 2019/20 football season using artificial intelligence.
The 'script' was released to top pundits and publications to provoke high-profile reactions. Essence then devised a media plan across outdoor, print and online, bringing to life the jeopardy and excitement of the unscripted nature of football.
This included social media, where fans were encouraged to skip if they didn't want to discover their team's fate, a partnership with TalkSport and train station takeovers, where 32,000 'scripts' were handed out to commuters in London, Liverpool, Manchester and Birmingham. When fans searched for upcoming fixtures, the results from the script were presented too.
There were 30% more BT Sport subscriptions than in the previous year. Judges said it was a 'brilliant idea to get everyone talking about the start of the football season,' and that the campaign 'ignited the passion of football fans'.
SILVER 
Essence
BT
Flexible BT TV Launch - Cinema Activation
BT TV, which launched in March this year, offers the UK's first range of flexible TV packages, so that people don't have to pay for programmes they won't watch. Cinema - where people choose to pay to watch, was chosen as the medium.
The campaign set out to trick the audience into thinking they were at the wrong screening, with two 60-second fake film openings deliberately designed to look and feel like the real movie. BT then revealed its flexible packages. There was a marked uplift in brand consideration and a sizeable increase in credibility perceptions.
BRONZE 
Manning Gottlieb OMD
Sony Pictures
Jumanji: Next Level
Jumanji: The Next Level was released in cinemas at the same time as other blockbuster movies. Sony Pictures wanted to reach out to 16-34 year olds, those who are more likely to see a film as soon as it is released.
Sony Pictures partnered with ITV's reality television show, I'm a Celebrity... Get me Out of Here!, watched by a substantial share of the target audience. The movie's stars, Dwayne "The Rock" Johnson and Kevin Hart, appeared in the show's 'Dingo Dollar' challenge via a video link played on an old television. Campmates had to complete three themed Jumanji levels to win the game.

FINALISTS 
MediaCom UK: The M Word, Lloyds Banking Group
Zenith: From Humiliation to High Fashion, Essity
Zenith: Rage Against the (Coffee) Machine, Costa Express