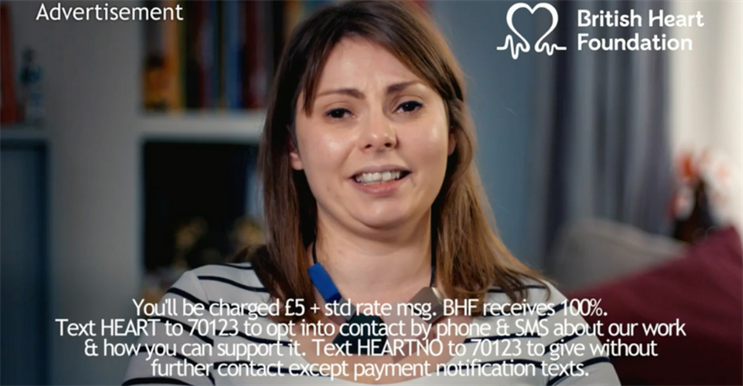 GOLD 
PHD and Channel 4
British Heart Foundation
24 Hours in A&E: Heart Special
The British Heart Foundation currently funds over half of all non-commercial UK research into treatments and cures for diseases such as stroke, vascular dementia and diabetes. Yet investment in research is disproportionately low compared to the burden of suffering, with heart diseases responsible for one in four deaths in the UK.
BHF needed to raise awareness of its cause, its need for funds and encourage people to donate. The campaign was themed around highlighting the link between the pioneering research the BHF funds and the lifesaving treatments people receive every day.
It partnered with 24 Hours In A&E on Channel 4, creating the Heart Special – a unique episode funded by the BHF that told the stories of three individuals who found themselves in A&E with serious heart and circulatory conditions. The show was promoted through Channel 4 PR and branded promotional airtime, as well as BHF and Channel 4 paid social support featuring emotive cutdowns targeted to the BHF's key donor audiences.
The programme concluded with emotive footage of each of the individuals and their families, showing the long-term positive impact of the treatments they had received and highlighting the vital aspects of BHF's work.
More than two million people watched the programme, aired in the first week of lockdown and it drove a considerable volume of donations.
SILVER 
Zenith
NatWest
Do You Want the Bill, Sir?
Women are often patronised when it comes to finance, whether that is paying bills or investing money. NatWest's analysis of financial ads and articles highlighted marked differences in communications aimed at men and women. Male-centred ones are empowering and investment-focussed, while the female-targeted communications focus on curing over-spending.
NatWest provided a credible and helpful voice and started a two-way conversation with its Women's Collective, a NatWest online community and content hub built by female investors, for female investors. It provided engaging and useful conversation around personal investments. Sign-ups to the Collective exceeded targets and Natwest has seen an increase in female investors.
BRONZE
Channel 4 and Publicis PGOne
Oral-B
Brush Like a Pro
Oral-B wanted to convert young consumers to Oral-B electric brushes from a manual one. The campaign, "Full disclosure", was themed around whether a manual or electric toothbrush was better.
Youth icon Gemma Cairney and Oral-B visited the sets of Channel 4's most popular shows for 16-34 year olds, including First Dates and Hollyoaks. The show's stars took blue disclosure tablets to show just how well their toothbrushes had been working for them.
Ads were played out in the contextually relevant shows and across Channel 4, E4 and on All 4. There was an uplift in Oral-B sales and 75% stated they were more likely to purchase an Oral-B electric toothbrush after seeing the ad.
FINALISTS 
ITV: Tik Tok and Love Island, Tik Tok
Manning Gottlieb OMD: Great British Biscuit Break, McVitie's (Pladis)
Twitter with Flying Object and PHD: Visit #ScottishTwitter, Twitter UK